Bleach: Volume 20
By Leroy Douresseaux
July 22, 2007 - 10:02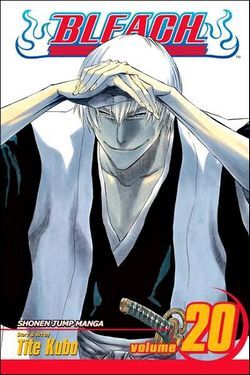 Thanks to barnesandnoble.com for the image.
In
Bleach

, Vol. 20
, the saga of the
Soul Society
comes to an end, as surprising betrayal is revealed.
Ichigo "Strawberry" Kurosaki was born with the gift to see ghosts. After his family was attacked by a malevolent lost soul (called a "Hollow"), Ichigo becomes a Soul Reaper, a warrior who helps souls find peace. However, he became a Soul Reaper when another Reaper, a young woman named Rukia Kuchiki, transferred her powers to him. Now, Rukia is the prize at the center of a conspiracy to gain a secret technology tied to both the Soul Reapers and the Hollow. Ichigo joins Byakuya Kuchiki to save Rukia, although the two Reapers only recently fought over her, and the breadth of the conspiracy within the Soul Society will send shockwaves through the Soul Reapers.
THE LOWDOWN: Stepping into Bleach at this point in the popular manga series' storyline is a truly daunting task. The series' arcane internal mythology and its anal fixation on spell casting incantations involving complicated wordplay is off-putting. On the other hand, manga-ka (creator) Tite Kubo has unleashed a martial arts and epic fantasy serial that is like a heady brew of The Matrix and Lord of the Rings. Looking at the fight scenes is like letting your eyes drink in a force of nature. I don't think anime or Hollywood's CGI special effects geniuses could top the raw energy and frantic fight choreography Kubo puts on the page.
FOR READERS OF: In this fight comic, the fighters wield staggering power, and the fights are simply the bomb.
B+
Last Updated: September 6, 2021 - 08:15