Comics / Manga / Yaoi Manga
Uki Ogasawara's Black Sun (Yaoi)
By Leroy Douresseaux
Dec 14, 2008 - 19:49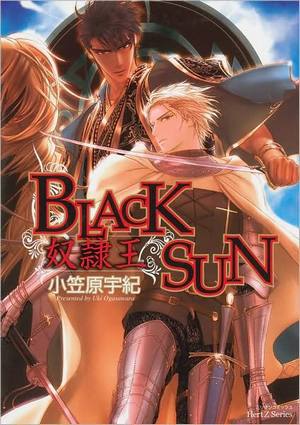 The cover illustration for the original Japanese edition of Black Sun (seen above) is also used on 801 Media's edition.
"18+ Mature Content"
The yaoi manga, Black Sun, begins at Gerun Fortress, a coastal stronghold along the Mediterranean Sea, 200 Monastic Knights, led by Prince Leonard de Limbourg, make their final stand against 20,000 Middle Eastern soldiers (likely Ottoman Turks) led by the invincible General Jamal Jan. After his forces seize the castle, General Jamal subjugates the enemy in an atypical way. The general commands Prince Leonard to strip bare below the waist and forces the Prince to perform sexual acts while the remaining Knights watch.
Spirited away, Leonard soon finds himself a stranger in a strange land where he becomes the General's "bedroom accessory." Leonard knows that he should hate his captor, but why does he find buried deep within a part of himself that desires Jamal's forceful touch?
THE LOWDOWN: Kidnapping, rape, battery, etc., it's all in the name of love for General Jamal. Romance novels have long been accused of promoting the "rape fantasy," and yaoi manga seems to indulge in this idea. The typical yaoi romance features a strong man – a seme (or top) – forcing a weaker man – a uke (or bottom) – into loving him via rough sex/rape. Usually, the seme is more masculine than the uke, who is depicted as a beautiful boy – a sexy, soft, girlish boy. In Black Sun, both Leonard and Jamal are equally masculine.
Jamal believes that he has to conquer Leonard by constantly forcing himself on Leonard until the European prince admits that he truly desires the heathen general. Wow! There are so many scenes of rough gay sex here (enough for several volumes), and it does, at times, become tedious. This is indeed shameless, yaoi manga, with all its beautifully drawn scenes of groping, jealousy, palace intrigue, and prison sex. The characters are quite good, and creator Uki Ogasawara could offer more character drama that doesn't involve man on man play, which would make an even better story.
POSSIBLE AUDIENCE: 801 Media titles tend to be… graphic, and Black Sun takes the cake – and smears it all over your body as foreplay for some forced sex.
B+
Last Updated: Jun 26, 2018 - 9:28