Black Rose Alice: Volume 4 manga review
By Leroy Douresseaux
April 30, 2015 - 20:45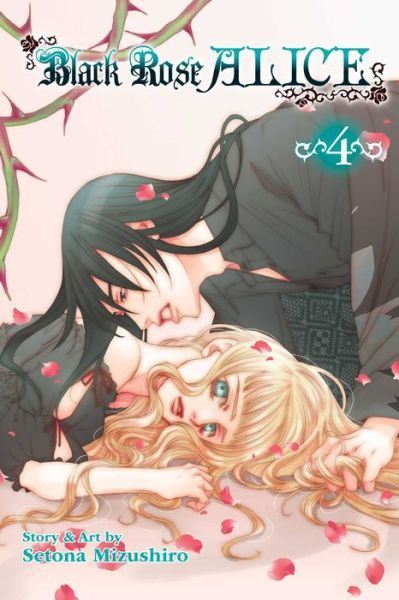 Black Rose Alice Volume 4 cover image is courtesy of barnesandnoble.com.
Follow me on
Twitter
.
Rated "T+" for "Older Teen"
Dimitri Lewandowski
, a celebrated tenor in early 1900s Vienna, was accidentally killed at the age of 26. His corpse is colonized by the seeds of a vampire. At first, Dimitri denies what he has become, until he realizes that he is killing all his friends. A century later, Dimitri is living in Japan, where he makes a deal with a dying young woman,
Azusa Kikukawa
. She becomes
Alice
, destined to become the new breeding ground for a group of vampires.
Black Rose Alice

, Vol. 4
(Chapters 15 to 19) opens in the wake of the vampire
Leo
's death. He had hoped to propagate with Alice, but she declined his entreaties. Lost and confused, Alice finds the diaries of
Akiko
, a teen girl who met Dimitri and his vampire partner,
Maxmilian
, when they arrived in Japan in the early 1920s. Akiko's father,
Count Koji Izumi
, becomes a kind of patron to the two vampires. Reading the dairies of the young girl makes Alice realize how eerily similar her story is to this young woman from the distant past.
THE LOWDOWN:
With each volume, I become a bigger fan of the
Black Rose Alice
manga. Strange and peculiar, it is one of most unique vampire comics that I have ever read. It is alluring. I am entranced. It's creepy and sometimes nasty, and I want more.
In
Black Rose Alice Volume 4
, creator
Setona Mizushiro
makes the vampire breeding methods and processes clearer for readers that need it (like me). We learn how vampires propagate, how death affects humans and vampires involved in the planting of vampire seed, and how the vampire seduces. I could not stop reading this volume. The characters become more interesting, their motivations more intriguing and entangled with each chapter. Sigh. I need a cigarette.
POSSIBLE AUDIENCE:
Fans of vampire manga will want to be seduced by the Shojo Beat title,
Black Rose Alice
.
Rating: A+ /10
Last Updated: August 31, 2023 - 08:12