Black Rose Alice: Volume 2 manga review
By Leroy Douresseaux
November 5, 2014 - 19:11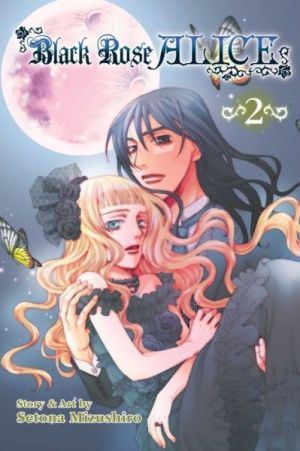 Black Rose Alice Volume 2 cover image is courtesy of barnesandnoble.com.
Follow me on
Twitter
.
Rated "T+" for "Older Teen"
Dimitri Lewandowski
is a celebrated tenor in early 1900s Vienna. After he is killed in an accident at the age of 26, his corpse is colonized by the seeds of a vampire. At first, Dimitri denies what he has become, until he realizes that he is killing all his friends. A century later, Dimitri is living in Japan. He makes a deal with a dying young woman,
Azusa Kikukawa
– her soul for the life of someone she loves.
As
Black Rose Alice

, Vol. 2
(Chapters 5 to 9) opens, Azusa dreams of her life as a 28-year-old, high school music teacher. She sees herself making peace with
Koya Ikushima
, the student who is truly, madly, and deeply in love with her. Then, Azusa awakens to find herself in a strange house and in a strange new body. And her housemates are four vampires, one of whom will be her mate.
THE LOWDOWN:
Monthly, I receive a box of VIZ Media titles for review from my VIZ Media rep. Sometimes, I cringe when I see certain titles that I eventually end up liking. Sometimes, a favorite title turns out to be disappointing.
Now, I must keep it real with you, dear readers, I squealed (almost) like a fan at the sight of Taylor Swift, after I caught sight of a new volume of the
Black Rose Alice
manga. This manga disturbs me with its creepy notions and ideas about vampires, but I love (yes, love) to read it.
Basically, creator
Setona Mizushiro
takes the cutey-pie vampires of vampire fiction like
Twilight
and
Vampire Knight
(to name a few). Then, she gives them the dark, troubling, horrifying, and sickening underneath that vampires have as monster and demons that prey on humans for sustenance. It is beauty with a horrible rotting inside of it. I also like that Mizushiro honestly depicts the possessive and parasitic qualities of romantic and familial love. I hope
Black Rose Alice
continues to bloom, never hiding the blackness at its heart.
POSSIBLE AUDIENCE:
Fans of vampire manga will want the Shojo Beat title,
Black Rose Alice
.
Rating: A /10
Last Updated: August 31, 2023 - 08:12