Black Lagoon: Volume 1
By Leroy Douresseaux
Aug 4, 2008 - 20:18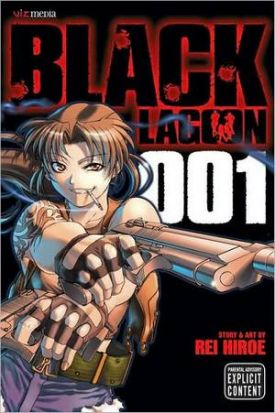 Thanks to barnesandnoble.com for the above cover image.
Rated "M" for "Mature"
Black Lagoon is like the 1980's NBC television action series, "The A-Team," except it takes place in the waters off the coast of Southeast Asia, in a boat, and the baddest member of the crew is a hot girl with killer gun talents.
Black Lagoon, Vol. 1 introduces us to the Black Lagoon, a modified, 80-foot, Elco PT boat (a World War II torpedo boat), and its crew of mercenaries, who specialize in delivering high value, black market… packages. There's Dutch the Boss, a massive black man who wears mirror shades; Benny the Mechanic, the ship's pilot and fix-it man; and Revy Two Hand, a girl who has a talent with firearms, rocket launchers, an anti-aircraft weapons that would impress the characters in the recent film, Wanted. Rokurō Okajima is an average salary man taken hostage aboard the Black Lagoon. For any other man this could mean certain death, but for Okajima this might be the beginning of a new life.
THE LOWDOWN: Reading Black Lagoon, I kept thinking that it came across like some kind of violent, Quentin Tarantino exploitation flick or an extra-violent version of Cowboy Bebop. Let me be honest. It's loud, violent, and dumb, and the skillful use of a grenade launcher is what passes for characterization. To be fair, however, I've watched many Nicolas Cage and Bruce Willis movies that are just like this: Con Air, Live Free or Die Hard, The Rock – gigantic thrill machines full of impossibly staged action sequences, massive explosions, and gun play. So if I were to describe this in the shameless language of movie poster blurbs, it'd go something like this, "Black Lagoon is Bad Boys II on paper."
POSSIBLE AUDIENCE: Although it is seinen manga – comics for adult men, Black Lagoon will appeal to any male reader old enough to understand big guns, big boobs, and gratuitous pistol-in-crotch shots.
B+
Last Updated: Jun 26, 2018 - 9:28