Comics / Comic Reviews / DC Comics
Blackhawks #1
By Leroy Douresseaux
October 5, 2011 - 11:22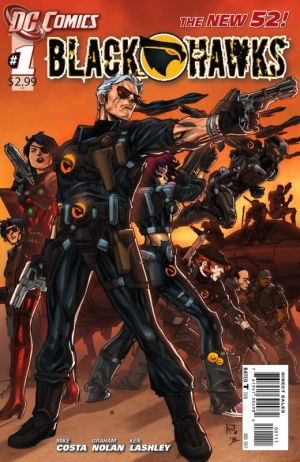 Blackhawks #1 cover image
With the re-launch of DC Comics' superhero line, "The New 52," the Blackhawks are reborn. However, the new series apparently will have no connection to the previous incarnations and also will share the post-Flashpoint, rebooted DC Universe continuity.
Blackhawks #1 opens in Ayaguz, Kazakhstan with the Blackhawks on a rescue mission and doing a takedown of hostage takers. The operation goes well, but not without a hitch. Kunoichi has a big problem that starts out small, and the Blackhawks' cover is blown.
THE LOWDOWN: If you are a fan of everything Blackhawk before Howard Chaykin's 1987-88 miniseries, you will need to accept that this new Blackhawks is exactly that – something new. Even if you accepted the changes Chaykin made, you will still have to make another leap of faith. Other than the logo, this is, for all intents and purposes, something called Blackhawks that is not the Blackhawk that debuted in 1941 in Quality Comics' Military Comics #1. That said…
This is neither really good nor deplorably bad. At least to me, Blackhawks is essentially a comic book about special ops on steroids with elements of military science fiction and superheroes mixed into the concept. Writer Mike Costa brings his script together nicely. Readers will have questions, like who are these characters; what are they about, what do they want; and who are their adversaries, among others? Still, what is in the first issue is easy to understand.
The art by Ken Lashley, from layouts by Graham Nolan, looks like a scratchy version of Trevor Von Eeden's art on the 1980s cult series, Thriller. Lashley's is not a pretty style, but it grew on me.
Will I try this comic book again? Yes, I'm curious, but I also hope it gets better.
POSSIBLE AUDIENCE: Fans of special operations stories may like Blackhawks.
B-
Last Updated: September 6, 2021 - 08:15