Black Clover: Volume 8 manga review
By Leroy Douresseaux
October 29, 2017 - 12:04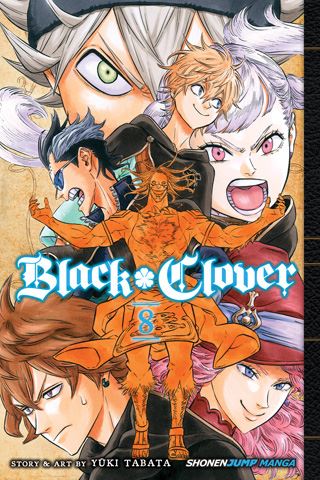 Black Clover Volume 8 cover image
Rated "T" for "Teen"
In the village of Hage (in the Clover Kingdom), there was a young boy named
Asta
, who, along with his friend, Yuno, was found abandoned as a small child. Asta dreams of one day being the "
Wizard King
," the greatest mage in the land. He has one big problem; he can't use magic. When he is 15-years-old, Asta receives the rare "five-leaf-clover grimoire" (a book of magic), which gives him the power of anti-magic. Can Asta become the Wizard King without being able to use magic? He won't give up, nor will his talented friend, Yuno.
The
Black Bulls
, a squad of Magic Knights, head to the
Underwater Temple
. There, its members planned to stop the
Eye of the Midnight Sun
(which attacked the capital of the Clover Kingdom) from obtaining a magic stone.
In
Black Clove

r, Vol. 8
(Chapters 63 to 71; entitled
Despair vs. Hope
), the Bulls face off against
Vetto
, an executive with Midnight Sun. However, Vetto turns out to be formidable beyond imagination, thanks to his "Beast magic." Can the Black Bulls work together to stop him? Asta thinks they can!
THE LOWDOWN:
The Black Clover manga has grown on me. The best shonen magical battle manga do that to me... over and over again... until I gasp with satisfaction. Anyway, this series' powerful magic battles remind me of the Harry Potter series, so I think some Potter fans will enjoy this manga.
Black Clover Volume 8 is surprisingly intense. The fighting is fun to read, but creator Yūki Tabata uses action to reveal the heart of his characters. I think this series will continue to grow and (believe it or not) get stronger as a narrative. It is a superb magical tour.
I READS YOU RECOMMENDS:
Fans of everything from Naruto to Harry Potter will definitely want to taste Black Clover.
A
9 out of 10
Rating: 9 /10
Last Updated: January 24, 2022 - 11:00