Black Clover: Volume 5 manga review
By Leroy Douresseaux
March 7, 2017 - 19:44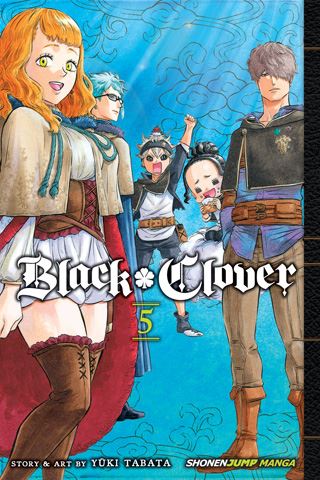 Black Clover Volume 5 cover image
Rated "T" for "Teen"
In the village of
Hage
(in the
Clover Kingdom
), there was a young boy named
Asta
, who, along with his friend,
Yuno
, was once found abandoned. Asta dreamed of one day being the "
Wizard King
," the greatest mage in the land. He has one big problem; he can't use magic. When he is 15-years-old, Asta receives the rare "five-leaf-clover grimoire" (a book of magic), which gives him the power of anti-magic. Can Asta become the Wizard King without being able to use magic? He won't give up, nor will his talented friend, Yuno.
Black Clover

, Vol. 5
(Chapters 35 to 44; entitled
Light
) opens on the final stage of the invasion of the royal capital of the Clover Kingdom by
Eye of the Midnight Sun
. This mysterious terrorist group is savoring victory when
Lord Julius Novachrono
, the current Wizard King, arrives. Later, Asta is in the city of Nean where
Marie
, the sister of
Magic Knight Gauche Adlai
of the Black Bulls, resides at a church-run orphanage. Gauche's obsession with his sister distracts from a plot to steal children, one that will reunite Asta with an enemy who is obsessed with him.
THE LOWDOWN:
The
Black Clover
manga has grown on me. I think that I am at the point where I have to warn you, dear reader, that my reviews of this series may not be reliable because I love it so. And yes, it still reminds me of the
Harry Potter
series.
Black Clover Volume 5
is the second best volume yet; I think Vol. 4 is still the best early in the series. This is an entertaining battle manga with explosive battles that recall Bleach and yes, the Harry Potter films. I'll say again: let
Black Clover
be the four-leaf clover on your manga-reading list, with its excellent characters and superb magical mystery.
I READS YOU RECOMMENDS:
Fans of everything from Naruto to Harry Potter will definitely want to open up the spell book that is Shonen Jump title,
Black Clover
.
A+
Rating: A+ /10
Last Updated: January 24, 2022 - 11:00