Black Clover: Volume 4 manga review
By Leroy Douresseaux
February 24, 2017 - 15:47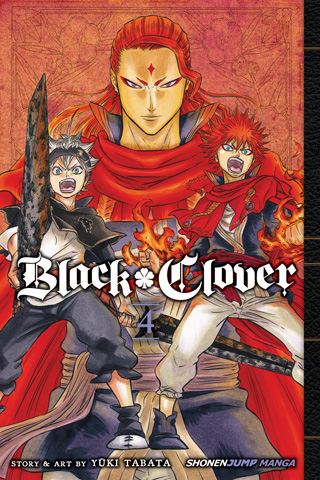 Black Clover Volume 4 cover image
Rated "T" for "Teen"
In the
Clover Kingdom
, in the village of Hage, there was a young boy named
Asta
, who, along with his friend,
Yuno
, was once found abandoned. Asta dreamed of one day being the "
Wizard King
," the greatest mage in the land. He has one big problem; he can't use magic. When he was 15-years-old, Asta received the rare "five-leaf-clover
grimoire
" (a book of magic), which gave him the power of anti-magic. Can Asta become the Wizard King without being able to use magic? He won't give up, nor will his talented friend, Yuno.
As
Black Clover

, Vol. 4
(Chapters 26 to 34; entitled
The Crimson Lion King
) opens, the
Golden Dawn
and the
Black Bulls
(the
Magic Knights
team to which Asta belongs) continues their battle against the mysterious magic users that have invaded the royal capital of the Clover Kingdom. While the Magic Knights are able to hold off these invaders, they cannot figure out why they are invading in the first place. Does the Crimson Lion King,
Fuegoleon Vermillion
, know? Can Asta prove himself in the most difficult battle in which he has ever fought? What is the "
Eye of the Midnight Sun
?"
THE LOWDOWN:
The
Black Clover
manga reminds me of the Harry Potter series, but this is not the first time that I have found shonen jump magical fantasy that recalls the magical world of Harry Potter for me. Besides,
Black Clover
is just fine on its own.
Black Clover Volume 4
is the best volume yet in a rapidly improving series. What creator
Yuki Tabata
offers is already quite strong, and it promises to get stronger. Like
Blue Exorcist
,
Black Clover
is a magical school manga full of mystery and awesome displays of magic. Let
Black Clover
be the four-leaf clover on your manga-reading list, with its excellent characters and superb magical mystery.
I READS YOU RECOMMENDS:
Fans of everything from
Naruto
to Harry Potter will definitely want to open up the spell book that is Shonen Jump title,
Black Clover
.
A+
Rating: A+ /10
Last Updated: August 31, 2023 - 08:12