Black Clover: Volume 3 manga review
By Leroy Douresseaux
October 25, 2016 - 22:23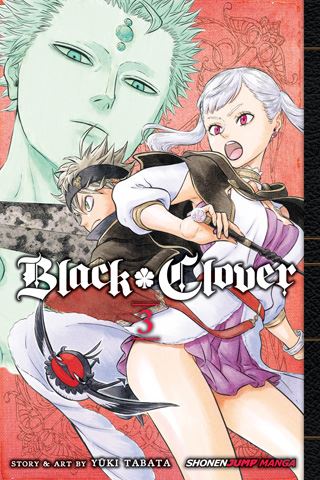 Black Clover Volume 3 cover image
Rated "T" for "Teen"
In the village of Hage, there was a young boy named
Asta
, who, along with his friend,
Yuno
, was once found abandoned. Asta dreamed of one day being the "
Wizard King
," the greatest mage in the land. He has one big problem; he can't use magic. When he was 15-years-old, Asta received the rare "five-leaf-clover grimoire" (a book of magic), which gave him the power of anti-magic. Can Asta become the Wizard King without being able to use magic? He won't give up, nor will his talented friend, Yuno.
As
Black Clover

, Vol. 3
(Chapters 17 to 25; entitled
Assembly at the Royal Capital
) opens, the
Golden Dawn
and the
Black Bulls
(the
Magic Knights
team to which Asta belongs) finishes their fight with the invading mages of the
Diamond Kingdom
. During the battle, Asta shows just how formidable he is, but can he truly take on the most powerful invading mage,
Mars
?
[This volume includes a Black Clover side story, "How the Black Bulls Beat the Late Summer Heat."]

THE LOWDOWN:
I enjoy this manga about an orphaned boy with magical powers. The hero of the Black Clover manga reminds me of another youngster who must also undertake the hero's journey, Harry Potter.
Black Clover Volume 3
offers some impressive displays of magical power unleashed in service of fighting. I don't know if
Black Clover
will become a special battle manga, but creator
Yuki Tabata
offers much in the way of imagination and inventiveness. Bolts of battle magic aside, the world of
Black Clover
offers much to attract readers.
POSSIBLE AUDIENCE:
Fans of everything from Naruto to Harry Potter will definitely want to open up the spell book that is
Black Clover
.
A
Rating: A /10
Last Updated: January 24, 2022 - 11:00