Black Bird: Volume 16 manga review
By Leroy Douresseaux
May 4, 2013 - 16:56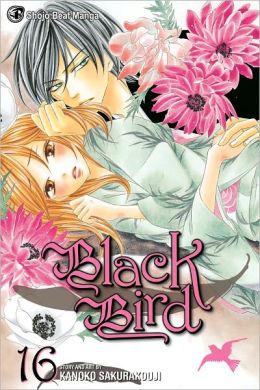 Black Bird Volume 16 cover image is courtesy of barnesandnoble.com.
Rated "T+" for "Older Teen"
Misao Harada often stared off into space, so she was considered strange and weird by her classmates. Those kids did not know that Misao was plagued by demons and spirits ever since she was a child. Now a high school student, Misao wants nothing to do with the magical realm, but demons want her. Her blood grants incredible powers, and her flesh immortality. After a demon attacks Misao, the young man who rescues her is none other than Kyo Usui, her dear, childhood friend who disappeared. But Kyo is also a demon and leader of the Tengu clan!
Misao has chosen to forego college and life as a normal human. And she's pregnant with Kyo's child. So as Black Bird, Vol. 16 begins, this should be a time of happiness. However, Misao's pregnancy is dangerous and also unusual, even for the demon world. Now, Kyo and his clan hope to find the secret to helping Misao. Perhaps, the information is in the Senka Roku or in something left behind by Kyo's late brother, Sho Usui.
THE LOWDOWN: I've described the Black Bird manga as edgy – sometimes shockingly edgy. This acclaimed series (winner of the 54th Shogakukan Manga Award) takes edgy into overdrive with Black Bird Volume 16. Reading it made me uncomfortable, but I couldn't stop reading. Don't want to give away any spoilers, but this series is going towards one hell of an ending. This is shojo with some dark mojo.
POSSIBLE AUDIENCE: Readers looking for edgy Shojo Beat fantasy romance titles will like the Shojo Beat title, Black Bird.
Rating: A /10
Last Updated: August 31, 2023 - 08:12