Black Bird: Volume 15 manga review
By Leroy Douresseaux
November 29, 2012 - 11:42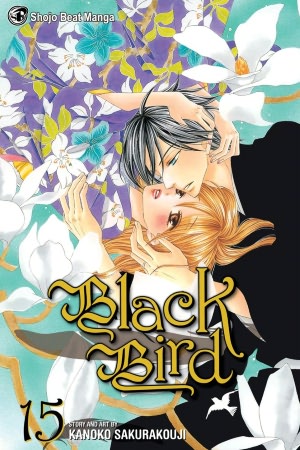 Black Bird Volume 15 cover image is courtesy of barnesandnoble.com.
Rated "T+" for "Older Teen"
Considered strange and weird by her classmates, Misao Harada often stared off into space. What those kids didn't know was that Misao was plagued by demons and spirits since she was a child. Now a high school student, Misao wants nothing to do with the magical realm, but demons want her. Her blood grants incredible powers, and her flesh immortality. After a demon attacks Misao, the young man who rescues her is none other than Kyo Usui, her dear, childhood friend who left so long ago. But Kyo is also a demon and leader of the Tengu clan!
As Black Bird, Vol. 15 begins, Misao is displaying stranger powers. What's up with that? She also worries about the direction of her relationship with Kyo. Then, there's the matter of what she plans to do after graduating from high school.
THE LOWDOWN: The Black Bird manga is acclaimed and edgy – sometimes shockingly edgy. I really don't want to reveal any of the many surprises contained in Volume 15, and this time around, the high school romance, shojo drama, palace drama, and dark fantasy (all rolled into one good read) is so full of surprises. There's even one that I didn't expect to happen in a teen-oriented shojo romance – although it may not surprise people who have been reading shojo manga much longer than I have.
Or maybe too much Southern prude-Victorian spinster is creeping into my reading personality. Anyway, read Black Bird.
POSSIBLE AUDIENCE: Readers looking for edgy Shojo Beat fantasy romance titles will like Black Bird.
Rating: A- /10
Last Updated: August 31, 2023 - 08:12