Black Bird: Volume 14
By Leroy Douresseaux
May 21, 2012 - 13:46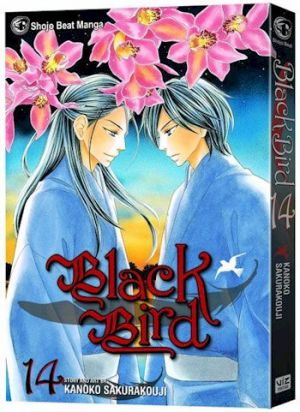 Black Bird Volume 14 cover image courtesy of Anime Castle Books.
Rated "T+" for "Older Teen"
Her classmates considered Misao Harada strange and weird because she often fell or stared off into space. They didn't know that she was plagued by demons and spirits since she was a child. Now a high school student, Misao wants nothing to do with the magical realm, but demons want her. Her blood grants incredible powers, and her flesh immortality. After a demon attacks Misao, the young man who rescues her is none other than Kyo Usui, her dear, childhood friend who left so long ago. But Kyo is also a demon!
As Black Bird, Vol. 14 begins, the final act in the feud between Kyo and his older brother, Sho, concludes, and the fate of the Tengu clan is determined. Then, Black Bird's final story arc begins. Misao is haunted by Sho's words to her that Kyo will kill her. What does that mean? Misao returns from the world of demons to her home just in time to deal with finals. And who says she smells like peaches?
[This volume also includes a "Special Features" section of four short stories.]
THE LOWDOWN: It is easy to see why the Black Bird manga is acclaimed. It is a high school romance, shojo drama, palace drama, and dark fantasy, all rolled into one good read. I like that this series, which is full of Japanese folkloric creatures, is dark and edgy.
The first two chapters of Black Bird, Vol. 14 deliver dark and edgy, as well as some violence. The sense of peril and imminent death, or at least, bodily harm, is palatable. Afterwards, the rest of this volume goes soft and gooey. The emphasis is on romance and love, and except for an element here and there, the second half comes across as a typical, non-fantasy, high school shojo romance… which isn't a bad thing. But that isn't exactly the Black Bird thing.
POSSIBLE AUDIENCE: Readers looking for edgy Shojo Beat titles will like Black Bird.
B+
Last Updated: August 31, 2023 - 08:12