Black Bird: Volume 10
By Leroy Douresseaux
August 31, 2011 - 09:06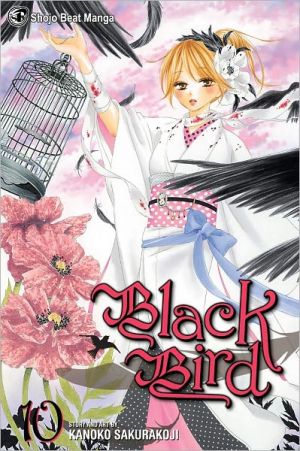 Black Bird Volume 10 cover image is courtesy of barnesandnoble.com.
Rated "T+" for "Older Teen"
Misao Harada's fellow students considered her strange and weird because she often fell or stared off into space, but they didn't know that she was plagued by demons and spirits since she was a child. Now a high school student, Misao wants nothing to do with the magical realm, but demons want her. Her blood grants incredible powers, and her flesh immortality. After a demon attacks Misao, the young man who rescues her is none other than Kyo Usui, her dear, childhood friend who left so long ago. But Kyo is also a demon!
As Black Bird, Vol. 10 begins, Misao is still reeling from the reappearance of Kyo's father, the long-lost Yoh Usui. Many people believe that Yoh killed his wife, Yuri, Kyo's mother, but now Yoh is about to tell Misao the real story. Meanwhile, Kyo's older brother, Sho Usui, has proven to be a hard demon to kill, and he's apparently joined forces with another clan to destroy the Tengu clan.
[This volume also includes a bonus four-page Christmas tale.]
THE LOWDOWN: While it is a shojo drama focusing on a young girl in love, Black Bird is also a court romance and palace drama set in a world of Japanese folkloric creatures. It is full of intrigue, political machinations, and violence, and its eye-catching graphic design and very pretty art make it an engaging, sometimes alluring read.
An interesting thing about Black Bird is that the protagonist/heroine, Misao, is really dangerous – both to herself and everyone else. She is the lynchpin, centerpiece, and object of desire that causes bloodshed, jealousy, and death. It's a shame because she is such a sweetheart, but it doesn't take a particularly observant reader to notice that wherever she is bloody hell is close behind. After a brief lull, the usual sharpness, danger and intrigue of Black Bird are back.
POSSIBLE AUDIENCE: Readers looking for edgy Shojo Beat titles will like Black Bird.
A-
Last Updated: January 24, 2022 - 11:00