Black Bird: Volume 9
By Leroy Douresseaux
July 6, 2011 - 08:16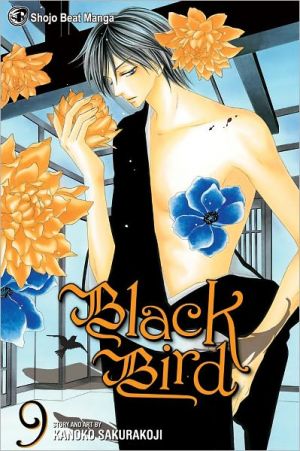 Black Bird Volume 9 cover image is courtesy of barnesandnoble.com.
Rated "T+" for "Older Teen"
Misao Harada was considered strange and weird by her fellow students because she often fell or stared off into space. They didn't know that she was plagued by demons and spirits since she was a child. Now a high school student, Misao wants nothing to do with the magical realm, but it wants her. One day, a demon attacks Misao, and the young man who rescues her is none other than Kyo Usui, her dear, childhood friend who left so long ago. When he licks Misao's wounds, Kyo heals them… because he's also a demon!
As Black Bird, Vol. 9 begins, Misao and Kyo finally consummate their relationship. Afterwards, however, Kyo turns distant and cold towards her and stops giving her more of the loving that she desperately wants. Meanwhile, other demons begin to demand a taste of Misao. Will these threats to Misao make Kyo warm up to her again?
[This volume also includes the two-chapter prequel tale, "Little Black Bird."]
THE LOWDOWN: I've come to love comic books set in the world of Japanese folklore, especially stories dealing with the yokai. Created by Kanoko Sakurakoji (the author of Backstage Prince), Black Bird offers fantasy, palace intrigue, jealousy, and simmering sexuality. The gorgeous art with its eye-catching graphic design makes this both a good read and like a delightful trip through an artist's portfolio. The drama in this volume is a bit softer than usual, but Black Bird remains an excellent fantasy drama.
POSSIBLE AUDIENCE: Readers looking for magical Shojo Beat titles will like Black Bird.
B+
Last Updated: August 31, 2023 - 08:12