Black Bird: Volume 3
By Leroy Douresseaux
March 5, 2010 - 12:46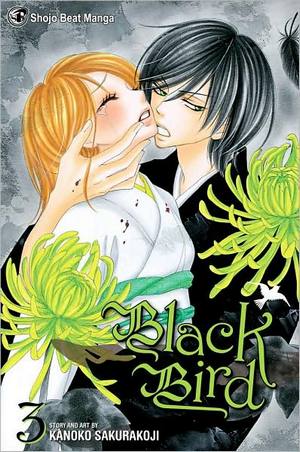 Black Bird Volume 3 cover image is courtesy of barnesandnoble.com.
Rated "T+" for "Older Teen"
Plagued by demons and spirits since she was a child, Misao Harada is considered strange and weird by her fellow students because she often trips and falls or stares off into space. Now a high school student, Misao wants nothing to do with the magical realm, but it wants her. One day, a demon attacks Misao, and her rescuer is none other than Kyo Usui, her dear, childhood friend who left so long ago. When he licks Misao's wounds, Kyo heals them… because he's also a demon!
In Black Bird, Vol. 3, the silver-haired, fox demon, Shuhei Kuzunoha continues his bid, not once, but twice, to obtain Misao, who is the bride of prophecy. If a demon drinks her blood, he will be granted a long life. If a demon eats her flesh, he gains eternal youth. If a demon makes Misao his bride, his clan will prosper. Misao has chosen Kyo, but even that choice is fraught with peril. Now, Kuzunoha is offering Misao a peek at the Senka Roku, a book that will show her what happens after she marries Kyo, and suddenly Misao's life is turned upside down.
THE LOWDOWN: How can I be fair to you, gentle reader, when I absolutely love Black Bird? This shojo fantasy about a teen girl meeting a magical boy has ensnared my imagination. An excellent read from cover to cover, Black Bird is a clandestine samurai drama dressed in Japanese folklore and shimmering with sexuality. Creator Kanoko Sakurakoji's (Backstage Prince) art is graphic storytelling made of gorgeous compositions and eye-catching graphic design. This third volume delivers on the promises that the first volume made.
POSSIBLE AUDIENCE: Readers looking for magical Shojo Beat titles will like Black Bird.
A
Last Updated: August 31, 2023 - 08:12