Black Beetle: No Way Out #3 comics review
By Leroy Douresseaux
April 16, 2013 - 18:55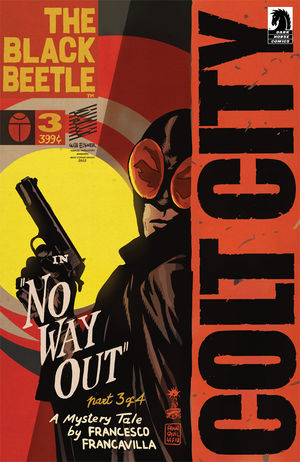 The Black Beetle No Way Out #3
"No Way Out" (Part 3 of 4)
Created by artist Francesco Francavilla, The Black Beetle is a comic book character that blends the aesthetics of pulp fiction, mystery, and the superhero. The Black Beetle is a super-heroic sleuth, and his base of operations is Colt City, a classic pulp and noir-type urban landscape.
In his first comic book series, the Black Beetle attempted to infiltrate a meeting of Colt City's two crime families, the Galazzos and the Fierros. Shortly after he arrives at Spencer's, the site of the meeting, the place goes up in a tremendous explosion – killing everyone inside. Determined to discover who came between him and bringing these gangsters to justice, the Black Beetle meets a wily adversary, the enigmatic Labyrinto.
The Black Beetle: No Way Out #3 opens at The Coco Club, a music club and gathering place for Colt City's high society. The club was also owned by the late Joseph Fierro, A.K.A. "Faccia D'Angelo," one of the crime lord's killed in the explosion at Spencer's. The club certainly seems to be doing well with its owner dead, so who's operating it now?
In disguise as a stranger-in-town named Ray Steves, the Black Beetle visits the Coco Club. He even makes a new friend in hot singer, Miss Ava Sheridan. But something else catches his eye, something that should not be.
THE LOWDOWN: As I wrote in my review of The Black Beetle #2: it is good when a comic book series proves itself not to be a fluke after a dynamite debut issue. Well, sometimes, it is the third issue of a comic book series where the actual slump or letdown occurs. If there is a slump coming in The Black Beetle, it will have to wait because issue #3 is as good as the issues before it.
I think the Black Beetle is so appealing a character because Francavilla went back to the roots of the superhero to create him. The character captures the essence of a costumed hero, without covering him with the barnacles of modern relevance and fake psychological claptrap. So, this is simply the mystery man taking on colorful villains.
The thing that makes this first Black Beetle comic book series so attractive is the graphic design and page layout. Reading this comic book is like following a trail of my favorite treats as my vision pursues the sparkling visual elements on each page. The colors, which switch from muted to vibrant, are simply appealing to the eye. Damn, I love this comic book.
POSSIBLE AUDIENCE: Readers looking for pure pop comics will find it in The Black Beetle: No Way Out.
http://pulpsunday.blogspot.com/
Rating: 9 /10
Last Updated: September 6, 2021 - 08:15