Comics / Comic Reviews / DC Comics
Batgirl #1
By Leroy Douresseaux
September 14, 2011 - 13:58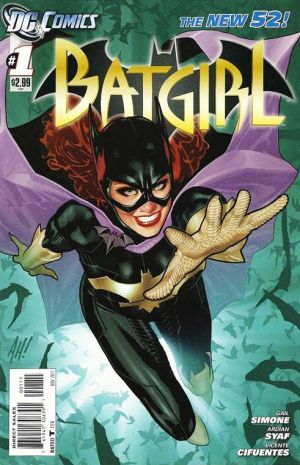 Batgirl #1 cover image. Art by Adam Hughes.
Batgirl #1 ("Shattered") returns Barbara Gordon as Batgirl, but after being paralyzed and in a wheelchair for a time, Barbara is struggling to adjust to being on her feet again. How tough? She discovers that physically she is just a touch slow when she faces the Brisby Killers. It is the villain Mirror, however, who will be her toughest challenge.
THE LOWDOWN: I have not read much by writer Gail Simone, but what I have read I've enjoyed. Her lively characters are easy to like, and her sparkling dialogue makes even the slow scenes perk up. The most surprising thing that Simone does here is how much she delves into Barbara Gordon's struggle to be Batgirl-walking-again.
Also, the pencil art by Ardian Syaf is so pretty, with its details and textures brought out by intricate line work, which the inks by Vicente Cifuentes lovingly highlight. Syaf's storytelling is solidly built on his drawing skills, and he and Simone make an excellent creative team. I'm going to keep reading, and you should to because I'm highly recommending Batgirl.
POSSIBLE AUDIENCE: Readers looking for good Batman-related titles will want the new Batgirl.
A-
Last Updated: January 24, 2022 - 11:00