Beneath a Steel Sky Review
By Jonathan Mills
August 29, 2006 - 16:07
RELEASE DATE: 1994

Beneath a Steel Sky is a "Cyber Punk" Point & Click Adventure Game released in 1994. You play as Robert Foster, a man who was stranded in the wasteland known as "The Gap" as a child. Armed officers come to take Robert back, but as their helicopter reaches the city, somehow it goes down, allowing Robert to flee. Initially hoping only to escape "The Gap", Foster soon seeks to uncover the corruption that lies within the city.

Before I even start this review, let me point out that Beneath a Steel Sky was released as Freeware in 2003 by it's developers, using the program, ScummVM, you can play this game flawlessly on Windows XP, head over to this Link to download them both.

I highly recommend, even if your on Dial-up to download the CD version of the game, as it include's full voice acting, and provide's a much richer experience.

Beneath a Steel Sky is a great example of a developer, releasing their old software, just for the sake of having people play it. While other DOS games have been released as freeware by their developers, their's usually some motive behind it, such as the Freeware release of Betrayal at Krondor, which was a promotional tool for at that time, the soon to be released Betrayal in Antara. While this was awesome of them to do, it still sucks that their had to be a financial motive for them to do it.

If you create something, you have every right to do with it as you please, but even so, you'd figure that by now, with an obsolete Operating System and no money being generated by these games (their not sold anymore) that Developers would release them for free, just for the sake of having their works of art exist.

If you've read a few of my review's then you may know by now that the "Cyber Punk" Genre is one of my favorites.

" Cyberpunk: A science fiction genre set in a dark, futuristic world where information is a powerful commodity, cybergenic augmentation is commonly practiced, and computers are linked globally and permeates every aspect of daily life. The majority of the population lives in urban areas, and corporations hold great power, influencing governments. Biotech areas, such as genetics, have been refined. Rebellion against centralized authority and cyberspace surfing are central themes of the genre."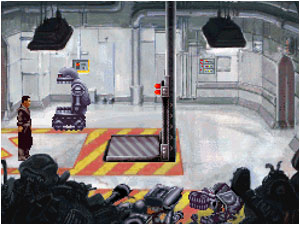 Released in 1994, BASS pack's alot of detail in it's sprite based graphics

Beneath a Steel Sky follow's basically every nuance of the "Adventure Game" Genre, you'll be asking a lot of question's, gathering inventory items, and watching cutscene's. What set's it apart and ultimately, the reason why you will want to continue playing it is it's Story and Atmosphere. From the sound's, to the voice acting, to the music, it all create's a world that seems alive.


The only real negative of the game are puzzle's that sometimes don't make a lot of sense, and pixel hunting, both of which can cause a lot of fustration, but if you've played a few Point & Click game's before, then your going to be use to this by now.

Their isn't a whole lot to say about Beneath a Steel Sky, because at it's core, it's a very simple game, gather items, talk to people, solve puzzles, advance the story and repeat. But don't let this simplicity turn you away, Beneath a Steel Sky is a game that I hold in the highest regard, it's a game that I remember playing fondly, and now that it's completely free, you have the chance to maybe have a similar experience...all this of a game that could have been lost forever.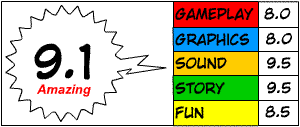 Final score is not based on an average
Last Updated: May 19, 2020 - 12:25