Comics / Manga / Yaoi Manga
Barefoot Waltz (Yaoi)
By Leroy Douresseaux
Dec 2, 2008 - 6:10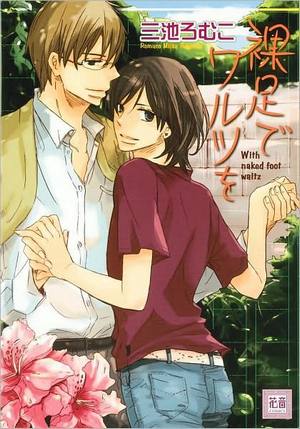 The above cover art from the original Japanese edition will remain for June Manga's edition, but the Japanese cover copy will be removed.
Rated "M" for "Mature Audiences 18+"
Reclusive author Abe hasn't had much of a love life for these last few years, except for a brief fling with a young assistant who acted as courier between Abe and his publisher. Now, the young man, Katsumi Nakahara, is back, fresh off a break up and looking to restart his romance with Abe. Will the cranky author make a little space in his life and home for Katsumi or will he push him back out into the street?
"Barefoot Waltz" and its follow-up short stories, "Come Here" and "Good Sky Sunny Day," are the framing sequence in Barefoot Waltz, a collection of boys' love tales. Created by manga-ka Romuco Miike, this volume features stories that each focus on seemingly complicated budding love that only needs a simple solution in order to become a serious relationship. Most of these stories conclude before the coupling begins, so the emphasis is on new love and romance rather than sex, although the "Barefoot Waltz" suite gets rather steamy.
Actually, Barefoot Waltz's title story is the strongest in terms of character and story and is worthy of getting an entire volume to itself. The other stories range from standard to better-than-average boys' love fare.
B
Last Updated: Jun 26, 2018 - 9:28