Comics / Comic Reviews / More Comics
Bankshot #1 comics review
By Leroy Douresseaux
July 24, 2017 - 21:39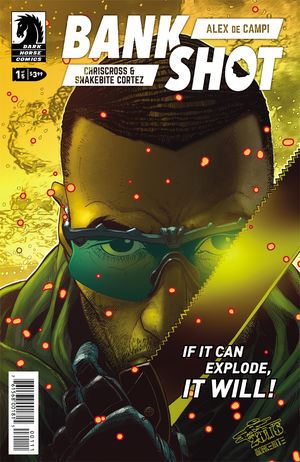 Bankshot #1 cover image
Bankshot
is a new comic book series from writer
Alex de Campi
and artist
ChrisCross
. Published by Dark Horse Comics, this five-issue miniseries focuses on an anti-hero who is a modern-day Robin Hood or a terrorist or both.
Snakebite Cortez
is the series colorist and de Campi is the letterer.
Bankshot

#1
opens at the J. Edgar Hoover Building in Washington D.C., the home of the
Federal Bureau of Investigation
(FBI). Some FBI agents have just gotten the worst of
Marcus King
, who might be a terrorist. The truth of Marcus King is probably an origin story than began in
North Africa
. Now, Marcus will have to deal with an adversary who knows what the truth about Marcus King is and where that truth is buried.
THE LOWDOWN:
I like the cover for Bankshot #1, which is drawn by ChrisCross and colorist Snakebite Cortez, because it looks like it was drawn by longtime comic book artist Paul Gulacy, who can draw a nice cover for sure. I also enjoyed reading this first issue, but so much of the plot and narrative remain hidden in the shadows of battle scenes and tense meetings.
In Alex de Campi I trust, however, because of her recent comic books like No Mercy (Image Comics) and her unexpectedly thrilling crossover hit, Archie vs. Predator (Dark Horse Comics). I think the best is yet to come in Bankshot. I am enjoying ChrisCross' art, but the art is also cluttered in many panels, which is (say it with me!) static in the line communication between the story and the reader. I look forward to the next issue.
I READS YOU RECOMMENDS:
Fans of the work of Alex de Campi and of ChrisCross will want to hit the
Bankshot
.
B+
7.5 out of 10
Last Updated: September 6, 2021 - 08:15