Bakuman: Volume 4
By Leroy Douresseaux
May 17, 2011 - 14:05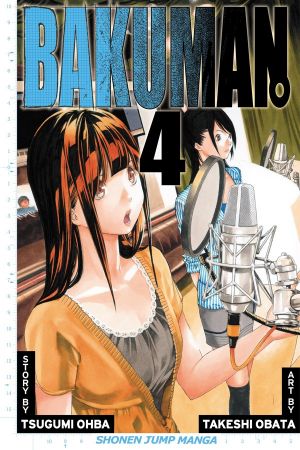 Bakuman Volume 4 cover image is courtesy of barnesandnoble.com.
Rated "T" for "Teen"
Bakuman (stylized as Bakuman。) is a manga series from Tsugumi Ohba and Takeshi Obata, the creators of the popular and controversial manga, Death Note. Bakuman follows two would-be manga creators, Akito Takagi and Moritaka Mashiro. Akita, an aspiring writer, convinces his artistically inclined classmate, Moritaka, to join him in creating manga. Although Moritaka resists at first, he goes along as the duo attempts to create a manga that will find its way into the manga magazine, Weekly Shonen Jump.
As Bakuman, Vol. 4 (entitled Phone Call and the Night Before) opens, Akito and Moritaka's partnership comes to an end. When Akito is unable to come up with storyboards within the mutually agreed upon time frame, Moritaka decides they should go their separate ways. Funny thing is, each one develops a concept similar to the other. Meanwhile, their Weekly Shonen Jump editor, Akira Hattori, schemes to reunite them – just in time for the Gold Future Cup manga competition.
THE LOWDOWN: With its insider's view of the Japanese comic book industry and large cast of interesting and engaging characters, Bakuman has something exciting practically on every page. Bakuman examines internal politics, creative philosophies and depicts the attempts of young creators to please publishers and editors, while navigating the market, appeasing fans and readers and meeting colleagues. However, the heart of the series is about collaboration, friendship, jealousy, rivalries, admiration, and sometimes even dating.
Readers familiar with the work of the creative team can take comfort in the fact that Death Note was not a fluke. Writer Tsugumi Ohba is good at creating multiple strong characters in an ensemble, and prolific artist, Takeshi Obata, who has drawn many manga, creates an engaging visual narrative, but gives Bakuman a distinctive graphic look. They have another winner
POSSIBLE AUDIENCE: Anyone who reads manga will want to give the excellent Bakuman a try.
A

Last Updated: August 31, 2023 - 08:12