Bakuman: Volume 3
By Leroy Douresseaux
Feb 7, 2011 - 6:58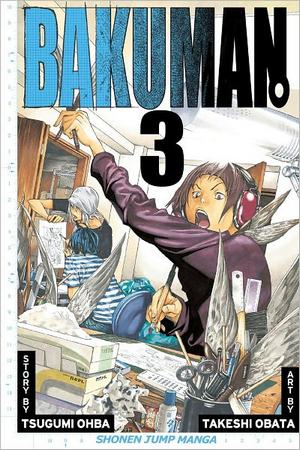 Bakuman Volume 3 cover image is courtesy of barnesandnoble.com.
Rated "T" for "Teen"
Tsugumi Ohba and Takeshi Obata, the creators of the popular and controversial manga, Death Note, reunite on the manga Bakuman (stylized as Bakuman。). This new series follows two would-be manga creators, Akita Takagi and Moritaka Mashiro. Akita, an aspiring writer, convinces his artistically inclined classmate, Moritaka, to join him in creating manga. Moritaka resists at first, but goes along because, in the past, he has considered becoming a manga creator. Now, the duo named "Muto Ashrirogi" attempts to create a manga that will find its way into the manga magazine, Weekly Shonen Jump.
As Bakuman, Vol. 3 (entitled Debut and Impatience) opens, Akita and Moritaka decide to take the credibility they've earned with Weekly Shonen Jump editor, Akira Hattori, to attempt to create a battle manga, the genre that does best in the magazine. While the boys struggle with creating a battle manga, Akito grows closer to his erstwhile girlfriend, Kaya Miyoshi, who wants Akito to help with a novel. Meanwhile, Moritaka becomes an assistant to manga prodigy, the eccentric Eiji Nizuma. Moritaka discovers that together with Eiji and his other assistants, they can all learn something from one another.
THE LOWDOWN: While it is indeed a shonen manga about creating shonen manga, Bakuman is also more than that. It is about breaking into an industry and working in that industry. Bakuman examines internal politics, creative philosophies and depicts the attempts of young creators to please publishers and editors, while navigating the market, appeasing fans and readers and meeting colleagues. It is also about collaboration, friendship, jealousy, and dating.
Of course, the two creators behind this manga are accomplished, so they make Bakuman especially readable. Writer Tsugumi Ohba is good at creating multiple strong characters in an ensemble. The prolific artist, Takeshi Obata, who has drawn many manga, creates an engaging visual narrative, but gives Bakuman a distinctive graphic look.
POSSIBLE AUDIENCE: Anyone who reads manga may want to give the excellent Bakuman a try.
A-
Last Updated: Jun 26, 2018 - 9:28