Bakuman: Volume 2
By Leroy Douresseaux
Nov 7, 2010 - 11:12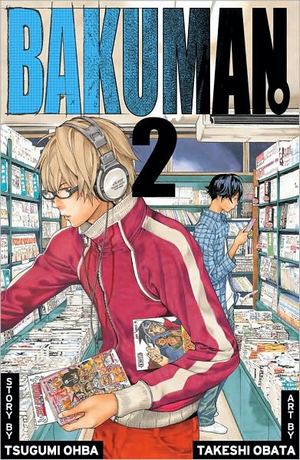 Bakuman Volume 2 cover image is courtesy of barnesandnoble.com.
Rated "T" for "Teen"
Tsugumi Ohba and Takeshi Obata, the creators of the popular and controversial manga, Death Note, reunite on the manga Bakuman (stylized as Bakuman。). This new series follows two would-be manga creators, Akita Takagi and Moritaka Mashiro. Akita, an aspiring writer, convinces his artistically inclined classmate, Moritaka, to join him in creating manga. Moritaka resists at first, but goes along because, in the past, he has considered becoming a manga creator.
As Bakuman, Vol. 2 (entitled Chocolate and Akamura) opens, Akita and Moritaka arrive at manga publishing giant, Shuiesha, where they find an editor that thinks they have potential. Akira Hattori, an editor for the magazine Weekly Shonen Jump, shepherds the boys through the world of creating manga and encourages them to enter a Jump contest. Still, he thinks that, as middle school students, they are too young to have their own manga series.
Meanwhile, Akira gets a girlfriend (even if he wasn't looking for one), and Moritaka struggles with his own girlfriend situation, Miho Azuki. Lurking in the background is manga prodigy, Eiji Nizuma, a 15-year-old who already has his own series.
THE LOWDOWN: One should not view Bakuman as simply a manga about creating manga. It is about chasing dreams and about how even talented people struggle to succeed in their chosen profession. The funny thing about Bakuman is that, lurking in the background, is the idea that your chosen profession might not love you back, as seen in references to Moritaka's late uncle. Mainly, Bakuman is about manga, created by two people in Obha and Obata who do manga so well, so what is not to like? In its own way, this is as intense as Death Note.
POSSIBLE AUDIENCE: Readers who like behind-the-scenes stories will like the excellent Bakuman.
A-
Last Updated: Jun 26, 2018 - 9:28