Babymouse #13: Cupcake Tycoon
By Leroy Douresseaux
October 5, 2010 - 10:29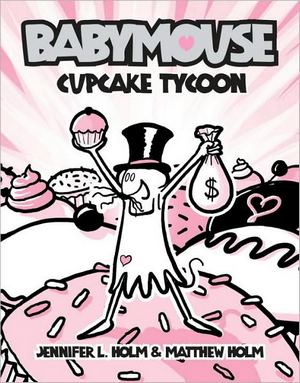 Babymouse Cupcake Tycoon cover image is courtesy of barnesandnoble.com.
Babymouse is a children's graphic novel series created by the sister-brother team of writer Jennifer L. Holm and artist Matthew Holm. This 2-color series (black and white with pink) features anthropomorphic (funny animal) characters. The star of the series is Babymouse, a girl mouse who loves cupcakes. Babymouse has an enormously active imagination she uses to create an adventurous and glamorous fantasy life, which allows her to escape the doldrums of everyday life. Her imagination also helps her discover ways to solve her problems.
In Babymouse: Cupcake Tycoon (the 13th book), there is a big fundraiser for the school library. To raise the money, students will be selling cupcakes, and the student who sells the most will win a secret grand prize. Winning should be a cinch for the cupcake-loving Babymouse, but it isn't. Her arch-nemesis, Felicia Furrypaws is a veritable cupcake-selling mogul. In her bid to outsell the other students, will Babymouse lose sight of the real reason for the cupcake sale?
THE LOWDOWN: Jennifer's energetic, spry storytelling and Matthew's cartoony comic book art make Babymouse one of the best children's comic books being published today. It's like an early elementary school version of Diary of a Wimpy Kid. Of the three I've read, Babymouse: Cupcake Tycoon is the best in terms of problem solving and lesson learning. The narrator spars with Babymouse, who is constantly getting her comeuppance, and seeing the lead character getting her just desserts can be funny, as it certainly is here. This well-crafted kids' graphic novel series keeps rolling, and this time it is as good as a cupcake.
POSSIBLE AUDIENCE: Children who read comics will like Babymouse, and the series is also a good way to introduce other young readers to the medium.
Last Updated: January 24, 2022 - 11:00