Babymouse #12: Burns Rubber
By Leroy Douresseaux
January 16, 2010 - 12:33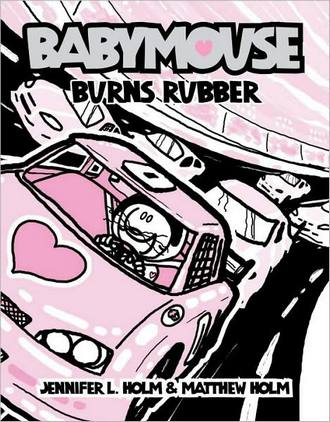 Babymouse Burns Rubber cover image is courtesy of barnesandnoble.com.
Babymouse is a children's graphic novel series created by the sister-brother team of writer Jennifer L. Holm and artist Matthew Holm and stars anthropomorphic (funny animal) characters. Babymouse, a girl mouse with a big love of cupcakes, often activates her enormously active imagination to create an adventurous and glamorous fantasy life. This allows her to escape the doldrums of every day life and also helps her discover ways to solve her problems.
In Babymouse: Burns Rubber (the 12th book), Babymouse discovers her friend, Wilson, building a box car. Wilson believes that he can finally achieve his dream of racing in the upcoming Downhill Derby, the biggest soapbox race of the year. Babymouse decides that it would be cool to be a racecar driver, and away goes her imagination. But is Babymouse really willing to put in the hard work and effort it will take just to prepare to enter the race, and will her dreams crush someone else's?
THE LOWDOWN: With lighthearted writing by sister, Jennifer, and a loose, energetic sequential narrative art by brother, Matthew, Babymouse not only typifies how much fun comic books can be, but it also exemplifies the wide visual and graphic storytelling possibilities of comics. A Babymouse book is always a romp through the title character's active imagination, but there is usually time for honest examples of teamwork, friendship, and hard work. Babymouse also learns to do unto others as she would have them do onto her. However, the stories are such a joy that the character building often seems like a mere bonus in this well-crafted kids' graphic novel series.
POSSIBLE AUDIENCE: Children who read comics will like Babymouse, and the series is also a good way to introduce other young readers to the medium.
Last Updated: May 19, 2020 - 12:25