Babymouse #11: Dragonslayer
By Leroy Douresseaux
August 22, 2009 - 08:48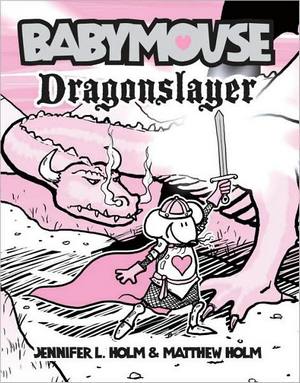 Babymouse Dragonslayer cover image is courtesy of barnesandnoble.com.
Created by the sister-brother team of Jennifer L. Holm and Matthew Holm, Babymouse is a children's graphic novel series. This anthropomorphic (funny animal) series stars Babymouse, a girl mouse with a love of cupcakes. Babymouse activates her enormously active imagination and creates an adventurous and glamorous fantasy life. This allows her to escape the doldrums of every day life and also helps her discover ways to solve her problems.
In the latest installment, Babymouse #11: Dragonslayer, Babymouse finds herself battling the monster of mathematics both in school and in her imagination. While our young heroine daydreams of slaying a dragon, she's actually in her class about to receive the results of a recent math quiz – an F-! The teacher then gives Babymouse a new assignment for her lunch period; she's going to join the school's mathlete team and compete in the upcoming Math Olympics.
But Babymouse doesn't believe in math, and her new teammates: Tiny the shark, Lucy the bat, Jerome the jellyfish, and Maurice the groundhog (?) take math quite seriously She has two weeks to learn math in order to help her school win back both its honor and the Math Olympics' coveted prize, the Golden Slide Rule. With an imagination that takes her to places like Narnia and Middle Earth, however, Babymouse might just have the perseverance to slay her personal dragon, math.
THE LOWDOWN: As an elementary school student with a voracious appetite for reading, the Babymouse series is something I would have devoured. Sister, Jennifer L. Holms, writes the series with a light-hearted spirit of adventure and discovery. Jennifer finds the good side of youthful troubles like school work and fitting in with others. She combines this with her fanciful takes on children's fantasy literature, a process that creates stories that playfully assault the imagination from all sides.
Brother, Matthew, the Babymouse artist, draws in a loose "Draw Squad" style that brings the series' imaginary exploration approach to life visually as a sparkling comic book narrative. Matthew is magic at creating fantastic realms that look like places where the reader would really want to be. In Dragonslayer, he's best when depicting the daunting landscape of school and math competitions. Together, the Holm siblings have produced a winning comic book.
POSSIBLE AUDIENCE: Any child that can read a comic book, perhaps, as young as four-years-old, will dig Babymouse #11: Dragonslayer.
Last Updated: February 5, 2023 - 09:06