Comics / Manga / Yaoi Manga
Awkward Silence: Volume 3 - SuBLime yaoi manga review
By Leroy Douresseaux
February 14, 2013 - 15:39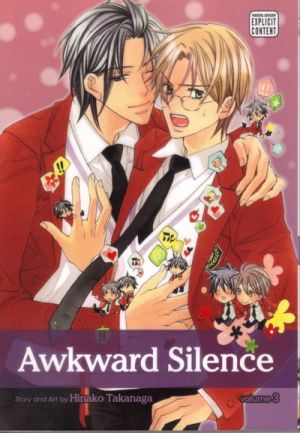 Awkward Silence Volume 3 cover image
Rated "M" for "Mature"
Awkward Silence is a yaoi manga graphic novel series from creator Hinako Takanaga. "Yaoi manga" is a subset of boy's love manga (BL) that usually depicts romance and explicit sex between male characters. The third volume of Awkward Silence focuses on a high school student confused after a rascally classmate steals a kiss from him.
Awkward Silence Volume 3 (Voice 6 to 7 and "Side Voice") focuses on Yuji "Yu" Sagara. In Vol. 1, Sagara was a rival of Keigo Tamiya's for the affections of shy and introverted Satoru Tono. Now, Sagara is the shy one, and a busy shy guy at that. Sagara's mother needs surgery, and he works a part-time job to pay bills while his mother is in the hospital. In addition to preparing for college, Sagara also works in the Student Council Office at Nishikou High.
That Student Council is the reason Sagara has to deal with Takahito Kagami, an incorrigible flirt who has all the girls after him. When Kagami steals a kiss from him, Sagara doesn't know what to do.
THE LOWDOWN: While it is labeled as a yaoi manga, Awkward Silence Volume 3 does not feature much in the way of sex, especially of an explicit nature. This graphic novel could be labeled as shounen-ai, the other subset of boys' love manga. Labels don't really matter, however, in regards to this book's quality.
Awkward Silence Volume 3 is like a shojo manga high school romance, but with a same-sex couple rather than with teen boy-teen girl lovebirds. Sagara worries and frets about the way he acts around Kagami. Kagami comes on strong, but is genuinely determined to prove his love to Sagara. This love story is sweet and gentle. It even has light, comic moments, such as when Sagara and Kagami join Tono and Tamiya on a double date at the amusement park, MB Land.
I enjoy the grab-ass-a-rama that yaoi manga can often be, but I also like the pure romance that boys' love offers, such as in this sweet, shojo-like book. I want more like Awkward Silence Volume 3.
POSSIBLE AUDIENCE: Readers looking for love stories about awkward young love can find it in the SuBLime series, Awkward Silence.
Rating: A- /10
Last Updated: September 6, 2021 - 08:15