Comics / Comic Reviews / Marvel Comics
AVENGERS #80
By Loretta Ramirez
Mar 28, 2004 - 10:50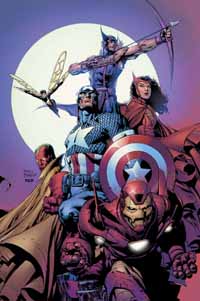 An action-packed issue, "Lionheart of Avalon, Part 4" by Chuck Austen and Olivier Coipel resurrects a hero, allows the Wrecking Crew to escape lockup, and reveals Thunderball's secret. Yet, despite the rapid plot progression, this issue is so full of far-fetched and inconsistent storytelling, that it's difficult to fully enjoy the rather interesting developments and beautiful art.
It seems that Austen is so focused on reaching certain plot points that he forgets the journey to these points. The result-readers get a jumpy narrative, one that tries to make us believe that certain events can occur although the logic leading up to these events is sketchy, at best. For example, we must accept that the Avengers fear for the Wasp's safety whenever she's alone with Yellowjacket and that villains can casually meander out of a mansion belonging to Tony Stark. In short, this issue lacks credibility.
Fortunately, the art partially compensates. Coipel's art, in fact, is very impressive, especially in its character details and lively action. The Scarlet Witch is particularly well drawn, with exquisite attention to her hair and features. And even though the Wasp's jet ride is conceptually silly, it at least looks exciting. Actually, the entire issue might have been more enjoyable if there had been no dialogue-just the art.
Overall: C
Last Updated: Jun 26, 2018 - 9:28