Comics / Manga / Yaoi Manga
Deathco Cotorino's Author's Pet (Yaoi)
By Leroy Douresseaux
September 25, 2008 - 15:01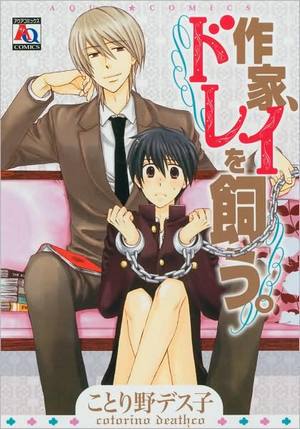 June Manga's edition keeps the cover illustration of the Japanese edition, but changes the cover copy to English.
Rated "M" for "Mature Audiences 18+"
When he accidentally injures a man at a train station, Yuuta Oohashi assumes that apologies and a general display of concern will mean that all is forgiven. The injured party, however, is having none of that. Cranky and handsome author Tsubaki Nishijima wants Yuuta by his hospital bedside practically 24/7, making Yuuta a virtual slave. The worst part is that Yuuta has to type out Tsubaki's latest novel while the author dictates the novel word-for-steamy word – one hot scene of lust and passion after another. When Yuuta finds himself fighting his own illicit feelings that have been aroused by Tsubaki's words, he wonders if this master-servant relationship won't also move to the bed and under the sheets!
Author's Pet is a collection of yaoi short stories from creator Deathco Cotorino. In addition to the title stories featuring Yuuta and Tsubaki, five other couples test the boundaries of master/slave, top/bottom, boss/subordinate, etc. relationships. These stories ask the question, just who has to give in and when? The "Author's Pet" tales are fun, sexy, comic romps full of good-natured, lustful ribbing. They mix innuendo and outright raunchiness into a heady brew of playful humor that is more "R-rated" than pornographic.
Two other stores, "To Keep a Cat" and "Open 24 Hours," almost, but not quite, match the good-humored, sexy merriment of the "Author's Pet" tales, but they strengthen Author's Pet's position as a lively collection of yaoi short stories.
B+
Last Updated: May 19, 2020 - 12:25