Atelier Marie and Elie - Zarlburg Alchemist: Volume 1
By Leroy Douresseaux
Aug 13, 2007 - 12:09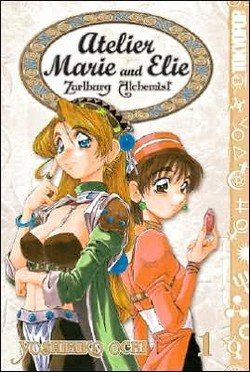 Thanks to barnesandnoble.com for the image.
Atelier Marie and Elie – Zarlburg Alchemist

, Vol. 1
is based upon the video game franchise created by Gust Corporation, a Japanese developer and publisher of video games. In this manga adaptation,
Marie Marlow
, the kind of prodigal daughter of
Zarlburg Royal Magic Academy
returns to the city of
Zarlburg
, where she ends up opening a alchemist shop with Elfer or "
Elie
," a recent graduate of the Academy.
Marie has a widely known reputation for drinking and being something of a ditz, but she may be the best alchemist the school has graduated. Right from the beginning, the citizens of Zarlburg start visiting the duo and ordering their potions, concoctions, and alchemical supplies. Marie and Elie even take on two forest elves, Passek and Prusha, as apprentices. The shop becomes the center of curious adventures and colorful characters.
THE LOWDOWN: Cartoonist Yoshihiko Ochi uses the first volume to introduce the characters and builds much of the story around sassy comedy in which the characters often mumble under their breath about one another. This is an interesting concept with appealing characters, but that doesn't really show in this first volume. The art has a nice textured appearance and sometimes looks like cock-eyed woodprints. Ochi's art here has some similarities to Art Adams, especially Adams' 80's work when he had inkers like Whilce Portacio and Mike Mignola.
POSSIBLE AUDIENCE: With its cast of knights and their steeds, elves, and impish girls on brooms and the playful use of magic and potion-making, this is perfect for juvenile readers of fantasy who might try comics. Why would I keep reading it? I've always had a thing for characters that fly on brooms.
C+
Get into alchemy at the Amazon aStore.
Last Updated: Jun 26, 2018 - 9:28