Astra Lost in Space Volume 2 manga review
By Leroy Douresseaux
Mar 19, 2018 - 22:23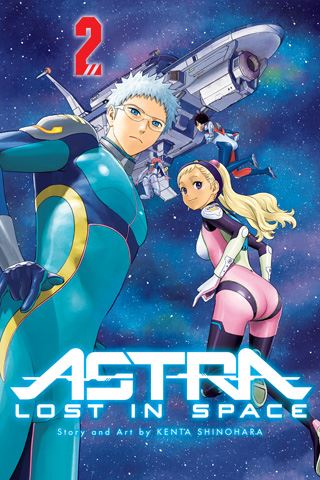 Astra Lost in Space Volume Graphic Novel Volume 2 cover image
Rated "T" for "Teen"
In the year 2063, interstellar travel has become the norm for the people of Earth. Eight teenagers and one pre-teen girl (a.k.a. "
Planet Camp Group B-5
") are participating in "Planet Camp." They begin a sojourn to Planet McPa for a week-long excursion. Soon after they arrive on McPa, however, a mysterious orb appears and transports the entire group into the depths of space. Now, the only thing that can get them home is Astra, an empty spaceship, floating alone in space and low on supplies.
Astra Lost in Space

, Vol. 2
(entitled
Star of Hope
; Chapters 8 to 18) opens as the crew of the Astra approach the second planet on the journey home,
Shummoor
. Suddenly, disaster strikes, and some of the crew wonders if this accident is really sabotage.
Kanata Hoshijima
, the de facto captain of the ship and leader of the group, believes that one of the group is out to kill the rest. Even if that is true, the planet Shummoor is dangerous in a way Kanata and company would not suspect.
THE LOWDOWN:
In my review of the first volume of the Astra Lost in Space manga, I called it the latest accessible teen-oriented sci-fi graphic novel series from VIZ Media. It is a pop comic offering mystery, danger, and adventure via interstellar space travel, and this series does offer this in a way that can be appealing to older readers.
Astra Lost in Space Graphic Novel Volume 2
is in the tradition of those romantic adventure yarns of the 19th century (
Treasure Island
,
Twenty Thousand Leagues Under the Sea
). Such tales are timeless, and even when such stories feature children and teenagers, there is something about them that appeals to readers regardless of age that embrace imaginative adventure tales.
Creator
Kenta Shinohara
has created a winner for fans of science fiction tales of fantastic journeys and wonderful exploration. Astra Lost in Space also recalls the sense of wonder and mystery that defined classic "Star Trek."
I READS YOU RECOMMENDS:
Fans of science fiction comic books, manga, and graphic novels will want the "Shonen Jump" title,
Astra Lost in Space
.
A
9 out of 10
Rating: 9 /10
Support this writer on Patreon
Last Updated: Jun 26, 2018 - 9:28