Arisa: Volume 1
By Leroy Douresseaux
October 25, 2010 - 15:25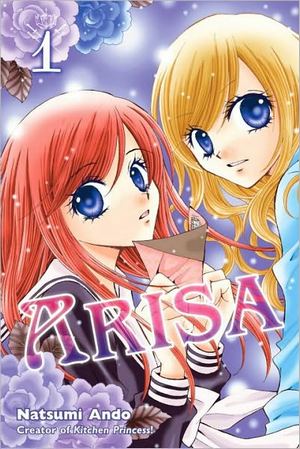 Arisa Volume 1 cover image courtesy of barnesandnoble.com.
Rating "T" for "Ages 13+"
Tsubasa Uehara and her twin sister Arisa were separated when their parents divorced. The hot-tempered Tsubasa is known as "the Demon Princess." Arisa is pretty and popular, so Tsubasa envies her sister's charmed life, although she loves her dearly. After Arisa's attempt suicide, however, Tsubasa discovers that her seemingly perfect sister is hiding some dark secrets. Tsubasa decides that the only way to discover the truth is to pretend to be Arisa and attend her sister's school, Himetsubaki Junior High, where the goings-on are indeed strange.
In Arisa, Vol. 1, Tsubasa discovers that everyone at Himetsubaki loves Arisa, so she cannot understand what about the school distressed Arisa so much. Then, Tsubasa learns about the "King." Then, there is the suspicious boy, Akira Manabe.
THE LOWDOWN: The creator of Kitchen Princess, Natsumi Ando, has cooked up a spicy shojo dish in Arisa. It starts off as a 'tweenish shojo manga spin on The Parent Trap. Then, it takes a detour to Village of the Damned territory. This is the sweet shojo as riveting mystery thriller with the perfectly colored characters to drive the story.
POSSIBLE AUDIENCE: Looking for an age appropriate, dark thriller for young readers? Then, Arisa is it.
A-
Last Updated: August 31, 2023 - 08:12