B.O.D.Y.: Volume 3
By Leroy Douresseaux
November 4, 2008 - 14:18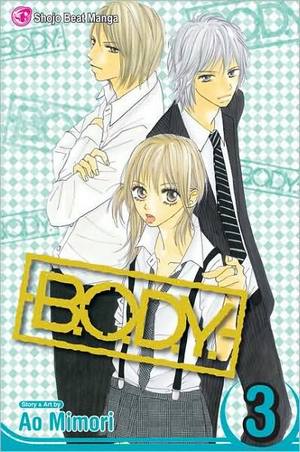 The above cover image is courtesy of barnesandnoble.com.
Rated "T+" for "Older Teen"
16-year-old Ryoko Sakura has a crush on Ryunosuke Fuji, the guy who sits next to her in class. Ryoko, who usually has weird tastes in guys, certainly has picked a strange one in Ryunosuke. The shocker is that Ryunosuke works at a host club, where women pay men to date them, and he's a host! Ryoko goes from can't-stop-drooling-over-him to being repulsed by Ryunosuke. Once he discovers that Ryoko is smitten with him, Ryunosuke won't stop teasing and tormenting her to break down her defenses. He drives her crazy, but she's hopelessly in love!
B.O.D.Y., Vol. 3 opens with the fallout from Vol. 2's shocking events. Ryoko discovered that Ryunosuke was working as a host (basically a gigolo) to pay off a debt, so she offers her services to Jin Sawamura, the owner of the host club who holds Ryunosuke's debt. As Jin also owns a "hostess" club, he allows Ryoko to work and earn money to pay off Ryunosuke's debt. Now, Ryunosuke has discovered Ryoko's new job, and it may cost the teen girl her boyfriend. Also, Ryoko delves into Jin's personal history, and what she discovers will shed some light and may also bring more trouble her way.
THE LOWDOWN: While it may have an outrageous premise, teens working as prostitutes, B.O.D.Y., is nevertheless a clever character drama that focuses less on sex and more on the minefield that is romantic and interpersonal relationships. Creator Ao Mimori seems very curious about those inconsistencies and habits about one another that drive us crazy. She also apparently believes that the eyes are the windows to the soul because she concentrates much of B.O.D.Y.'s graphic storytelling on presenting close views of her characters beautifully drawn and expressive eyes. The tempestuous nature of her characters makes for a vigorous character drama full of welcomed psychological twists and turns.
POSSIBLE AUDIENCE: Although aimed at teen readers, B.O.D.Y. is an exceptional drama that will challenge the mature mind.
A
Last Updated: January 24, 2022 - 11:00