Anonymous Noise: Volume 4 manga review
By Leroy Douresseaux
Jan 11, 2018 - 23:59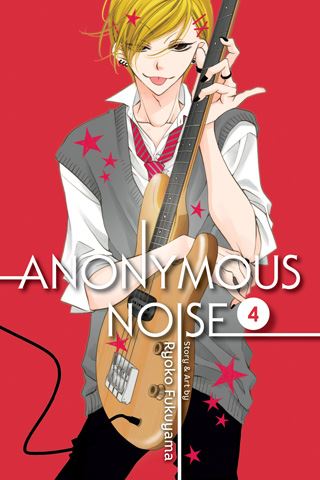 Anonymous Noise Graphic Novel Volume 4 cover image
Rated "T" for "Teen"
When her parents fought,
Nino Arisugawa
found comfort in singing with
Momo Sakaki
, a boy who was her next door neighbor. Then, Momo suddenly moved away. Nino soon found comfort in a young songwriter,
Kanade "Yuzu" Yuzuriha
, who called Nino, "
Alice
." He told her that she should sing instead of scream, but he also moved away. Now, Nino is in high school and is confronted by reunions.
As
Anonymous Noise

, Vol. 4
(Chapters 17 to 22) opens, Nino announces that she is quitting the band,
In No Hurry to Shout
.
Yoshito Haruna
a.k.a. "
Haruyoshi
," a.k.a. "Queen," bassist for In No Hurry, decides it is time for Nino to learn why she is the band's "Alice. That means an origin story of the band. It begins in a hospital where Haruyoshi,
Miou Suguri
, and
Ayumi Kurose
are three hospitalized kids who meet a strange boy named Kanada "Yuzu" Yuzuriha, who does not want to talk. Worst of all, he is forbidden from playing the music he loves.
THE LOWDOWN:
The Anonymous Noise manga has a narrative that begins with the meeting of one girl and two separate boys in the past. Readers may not realize that these back stories have different sides and points of view.
Anonymous Noise Graphic Novel Volume 4
expands the history slash back story of the story with a look at the origins of the band, In No Hurry. This is a good story, but it makes me realize that for all its teen soap opera theatrics, the narrative has a lot more to reveal about at least some of the characters. There are few dry spots in this volume of Anonymous Noise, but I think the series may really just now be starting to heat up.
I READS YOU RECOMMENDS:
Fans of Shojo Beat high school romantic dramas will want to jam to
Anonymous Noise
.
A
8.5 out of 10
Rating: 8.5 /10
Support this writer on Patreon
Last Updated: Jun 26, 2018 - 9:28