Anonymous Noise: Volume 3 manga review
By Leroy Douresseaux
Jul 11, 2017 - 10:31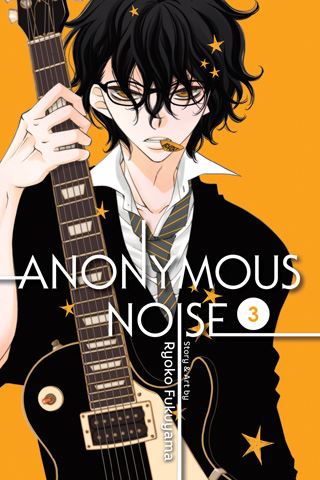 Anonymous Noise Volume 3 cover image
Rated "T" for "Teen"
When her parents fought,
Nino Arisugawa
found comfort in singing with
Momo Sakaki
, a boy who was her next door neighbor. Then, Momo suddenly moved away. Nino soon found comfort in a young songwriter,
Kanade "Yuzu" Yuzuriha
, who called Nino "
Alice
." He told her that she should sing instead of scream, but he also moved away. Now, Nino is in high school and is confronted by reunions.
As
Anonymous Noise

, Vol. 3
(Chapters 11 to 16) opens, Nino makes her TV debut as "Alice," the lead singer of the up and coming pop idol band,
In No Hurry to Shout
(a.k.a. In No Hurry). Her unconventional performance, however, leaves a lot of people shocked. Meanwhile, a friend of Momo's gives Nino a gift. Yuzu struggles with how to tell Nino/"Alice" how he feels about her, and it is time for another reunion.
THE LOWDOWN:
The
Anonymous Noise
manga delves deeper into the world of pop idol recording artists and musical acts just about with each chapter. However, the complicated romances are this manga's real soundtrack.
Anonymous Noise Volume 3
expands the possible configurations of the love triangle. Creator
Ryoko Fukuyama
amps up the teen angst as her characters struggle with what they want to say to other characters. The dramatic tension has a solid foundation in what is said and what is unsaid. Anonymous Noise makes a joyful noise and plays at high drama, and it is an especially good shojo teen soap opera.
I READS YOU RECOMMENDS:
Fans of Shojo Beat high school romantic dramas will want to jam to
Anonymous Noise
.
A
9 out of 10
Rating: 9 /10
Support this writer on Patreon
Last Updated: Jun 26, 2018 - 9:28