Anonymous Noise: Volume 2 manga review
By Leroy Douresseaux
May 6, 2017 - 23:29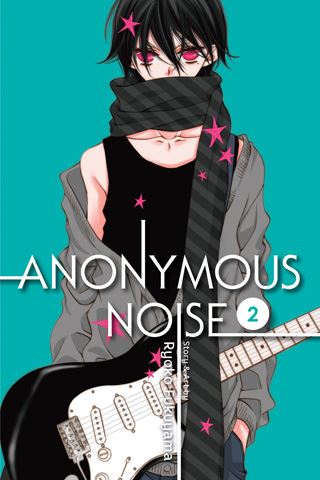 Anonymous Noise Volume 2 cover image
Rated "T" for "Teen"
Once upon a time, when her parents fought,
Nino Arisugawa
found comfort in singing with
Momo Sakaki
, a boy who was her next door neighbor. Then, Momo suddenly moved away. Nino soon found comfort in a young songwriter,
Kanade "Yuzu" Yuzuriha
, who called Nino "
Alice
." He told her that she should sing instead of scream, but he also moved away. Now, Nino is in high school and is confronted by reunions.
Anonymous Noise

, Vol. 2
(Chapters 6 to 10) finds Nino trying to improve as a singer.
Miou Suguri
, the vocalist and guitarist of the up and coming pop idol band,
In No Hurry to Shout
(a.k.a. In No Hurry), tells Nino that she cannot sing. Miou, however, has an ulterior motive; she'd like Nino to take her place as singer for In No Hurry.
Yuzu, recently reunited with Nino/Alice and the songwriter for In No Hurry, also wants Nino to sing for the band. Nino is reluctant because she believes that she is the reason Yuzu can't or won't sing. Meanwhile, Nino also learns that Momo Sakaki is now
Momo Kiryu
, and he is avoiding her.
THE LOWDOWN:
First, I must repeat what I wrote about the Anonymous Noise manga the first time I reviewed it. The series has themes and subplots that involve singing, songwriting, bands, and apparently the music industry. The lead characters and some of the supporting characters have musical, singing, and/or songwriting talent, but don't kick out the jams just yet.
However,
Anonymous Noise Volume 2
shows that this musical drama is high in teen drama and melodrama. This shojo high school romantic drama is rich in romantic rivalry, professional rivalry, and unrequited love. Creator
Ryoko Fukuyama
is true to this genre, but why whisper sweet nothings when you can bang the drama and shout at the devil? When it comes to high school drama and romance comics, Anonymous Noise makes a joyful noise.
I READS YOU RECOMMENDS:
Fans of Shojo Beat high school romantic dramas will want to listen to
Anonymous Noise
.
A-
Rating: A- /10
Support this writer on Patreon
Last Updated: Jun 26, 2018 - 9:28