Animal Academy: Volume 2
By Leroy Douresseaux
September 20, 2009 - 19:24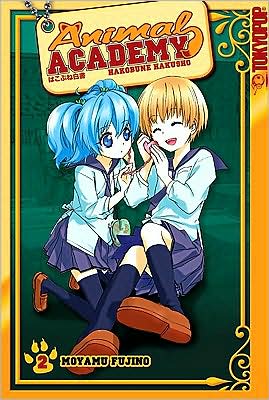 Animal Academy Volume 2 cover image is courtesy of barnesandnoble.com.
Fantasy/Romance; Rated "Y" for "Teen-Age 10+"
Neko Fukuta believed that she had not been accepted to any high schools because she was a horrible student. Neko learns that she is enrolled at the mysterious high school, Morimori Academy, but it is a secret school for animal-human shapeshifters. Neko pretends to be able to transform into a cat, like her roommate, Miiko Suzuhara, who nicknames Neko, Fune. Will Fune be able to keep her humanity a secret from everyone?
In Animal Academy: Hakobune Hakusho, Vol. 2, Fune and her pals discover a portal on the edge of the school grounds that takes them to the human world. Next, Fune helps a classmate find something precious to her. Then, Fune and fellow human student, Yuichi Takuma, are all ready to leave Morimori for "Golden Week" (Spring Break). After they learn that the school doesn't recognize the holiday, Fune and Yuichi have to find another way to visit their relatives. Finally, Fune is not sure what club she should join, and for some reason, she's interested in the Ninja Club.
THE LOWDOWN: One may view Animal Academy as a sweet-natured, juvenile fantasy (which I do), but its magical setting – a boarding school for animal-human shapeshifters – is the kind of fictional locale that will attract young imaginations… and some older (like mine). Creator Moyamu Fujino evokes the spirit of the films of Hayao Miyazaki with her muted, but detailed compositions of enchanted woods and the paranormal school. I've compared other manga to the Harry Potter novels, and this one deserves the comparison.
POSSIBLE AUDIENCE: A combination kodomo manga (comics for children) and shojo manga (comics for teen girls), Animal Academy: Hakobune Hakusho's brand of light-hearted fantasy will actually appeal to many readers.
B+
Last Updated: August 31, 2023 - 08:12