Animal Academy: Volume 1
By Leroy Douresseaux
May 16, 2009 - 11:51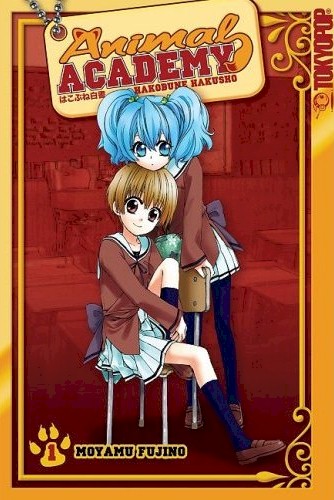 Animal Academy Volume 1 cover image is courtesy of Anime Castle Books.
Fantasy; Rated "Y" for "Teen-Age 10+"
Neko Fukuta had not been accepted to any high schools because, she believed, she was a horrible student. Then, she finds herself enrolled at the mysterious high school, Morimori Academy, which turns out to be a secret school for animal-human shape shifters. Neko pretends to be able to transform into a cat, like her roommate, Miiko Suzuhara, who nicknames Neko, Fune. Will Fune be able to keep her humanity a secret from everyone?
In Animal Academy: Hakobune Hakusho, Vol. 1, Fune's new friend, Miiko guides her through the forest to the hidden campus of Morimori High School. The administration, however, rescinds its admissions offer because Fune is not a shape shifter. After finally convincing them to admit her to the school, Fune settles in with her new roommate, Miiko, but soon experiences the cat girl's odd behavior, including her dislike of Fune getting close to anyone else. Then, Fune meets, Yuichi Takuma, another student who claims to be a human…
THE LOWDOWN: A sweet-natured, juvenile fantasy, Animal Academy seeks to carry the reader's mind away on a flight of fancy. Reading it is like lying in the grass on a summer day and staring into the sky at the fluffy clouds, as your mind drifts away to make-believe places. In fact, Morimori Academy is a fantasy wonderland like Peter Pan's Neverland or Dorothy's Oz. Creator Moyamu Fujino's art also evokes the spirit of the films of Hayao Miyazaki, especially Spirited Away. In fact, the setting for Animal Academy could be right out of a Miyazaki film, which makes this kodomo fantasy an enchanting read.
POSSIBLE AUDIENCE: While it could be categorized at kodomo manga (comics for children), Animal Academy: Hakobune Hakusho has shojo manga (comics for teen girls) elements that may appeal to older readers.
B+
Last Updated: September 6, 2021 - 08:15