Comics / Manga / Yaoi Manga
A Love Song for the Miserable (Yaoi Manga)
By Leroy Douresseaux
Apr 18, 2008 - 9:43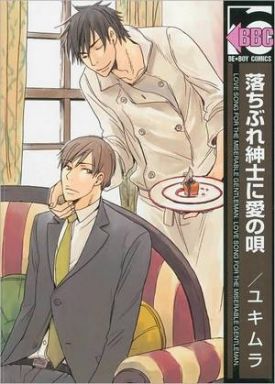 Thanks to barnesandnoble.com for the image.
Itsuki Asada
works for
Shikishima Department Store
, and his request for a transfer to a new department within the store is denied. After trying to drink his problems away, Asada has a drunken encounter with
Sunao "Nao" Iwasaki
, a budding pastry chef. Following Nao to his family's pastry shop, Star Bakery, Asada discovers that he is a pastry connoisseur, and his suggestions help Nao develop his baking skills.
They become inseparable friends; then, Nao announces that he's going to France to improve his pastry skills. Asada reacts badly to loosing his newfound friend and ends the relationship on bad terms.
Three years later, Nao is back in Japan and is working at the Polar Star bakery where he begins to wow the locals with his superior pastry creations. Now, Asada needs a business favor from Nao, but Nao still isn't talking to him. Not only are old wounds slow to heal, but Asada must reveal his true feelings for Nao, just as Nao must forgive him.
THE LOWDOWN: A not especially graphic boys' love manga, A Love Song for the Miserable is a tale of two young male lovers who just can't get the right words out, especially the uptight young salesman, Asada. Manga-ka Yukimura has created a gentle love story about awkward love between two men who are still destined to be partners. The conflict – Asada's reluctance to admit his feelings and his bitterness about his languishing career – becomes, at times, too drawn out and repetitive. Still, the gentle nature of this love story has a certain charm and appeal.
POSSIBLE AUDIENCE: The incurable romantic.
B+
Last Updated: Jun 26, 2018 - 9:28