Comics / Comic Reviews / DC Comics
All-Star Batman #6 comics review
By Leroy Douresseaux
April 29, 2017 - 19:30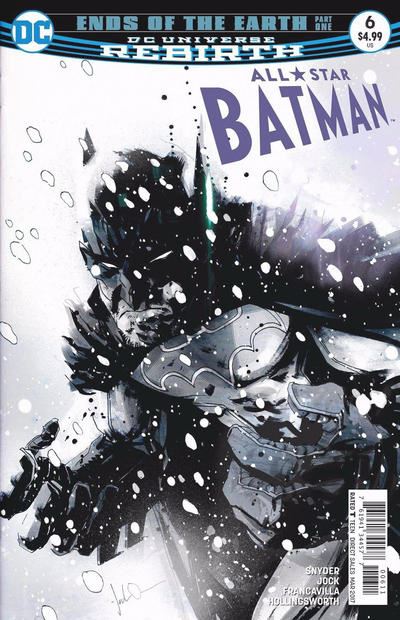 All-Star Batman #6 cover image
Rated "T" for Teen

Batman created by Bob Kane and Bill Finger

"Ends of the Earth" Part 1 and "The Cursed Wheel" Part 5
When I first saw the straight-to-video animated film,
Batman & Mr. Freeze: SubZero
, I realized what a great character long-time Batman nemesis, Mr. Freeze, could be. To put it simply, the late actor Michael Ansara killed it delivering a great voice performance as Freeze in SubZero. I think Boyd Kirkland and Randy Rogel created pathos for Freeze in SubZero that the character has rarely (if ever) had. Since seeing that film, I have chosen to hear Michael Ansara's voice whenever I read comic books in which Mr. Freeze appears.
So I was happy to learn that Mr. Freeze is the bad guy in the second story arc of the new star-creator-driven Batman comic book series,
All-Star Batman
. This new story features series writer
Scott Snyder
, and is drawn by
Jock
; colored by
Matt Hollingsworth
; and lettered
Steve Wands
.
All-Star Batman

#6
opens with Batman trudging through snow in Alaska, 300 miles north of the Arctic Circle. There is where he will find Mr. Freeze, hold up with a small army of living dead and about to hatch a plan to unfreeze Armageddon on humanity.
THE LOWDOWN:
There is a sense of desperation in this new story, "Ends of the Earth." Personally, professionally, and socially – in the grand scheme of things, personal drive and desire drive conflict for the players in this new Batman thriller. Each side believes that his choices are, if not the ultimate good, then, the best outcome for everyone.
This is the apocalypse writ intimately on old grudges and broken promises, and Jock's art is perfect for this stylish, world-ending, character study. After the shiny, thrilling opening arc, Scott Snyder brings everything down to a simmer that still manages to threaten the world. Meanwhile, "The Cursed Wheel" continues with a new artist, Francesco Francavilla, who delivers a creepy opening chapter.
I READS YOU RECOMMENDS:
Readers looking for a compelling offbeat Batman story will want the
All-Star Batman
comic book.
A-
Rating: A- /10
Last Updated: September 6, 2021 - 08:15