Comics / Comic Reviews / DC Comics
All-Star Batman #5 comics review
By Leroy Douresseaux
April 8, 2017 - 10:22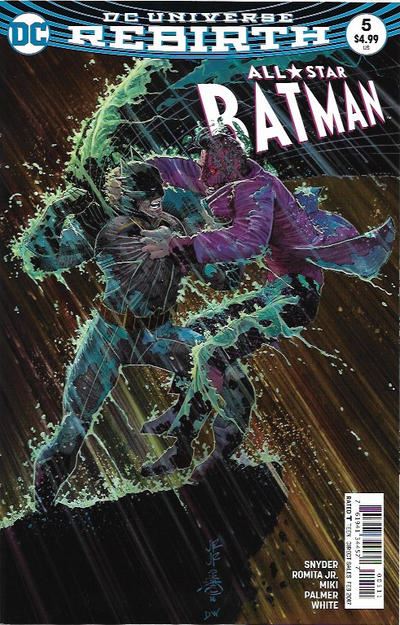 All-Star Batman #5 cover image
Rated "T" for Teen

Batman created by Bob Kane and Bill Finger

"My Own Worst Enemy" Finale
All-Star Batman is the recently launched Batman comic book that is written by superstar writer Scott Snyder and drawn by superstar artists and hot up-and-coming comic book-drawing talent. The first story arc, the five-issue "My Own Worst Enemy," is drawn by John Romita, Jr. (pencils) and Danny Miki (inks); colored by Dean White; and lettered by Steve Wands.
In "My Own Worst Enemy," Batman and Harvey Dent/Two-Face are on a 498-mile journey to a house, where young Bruce Wayne and young Harvey Dent lived together as almost-brothers for a short while. Now, Dent wants to go back to that house to find something that will be life-changing for him. As a threat to keep Batman from interfering, Two-Face has promised to publicly reveal the dark secrets of Gotham's criminal overlords. Now, Batman and Harvey Dent/Two-Face, with Batman's new partner, Duke, in tow, fight to reach their destination with some of Gotham's most lethal killers on their heels.
All-Star Batman

#5
("My Own Worst Enemy" Finale) opens with Batman and Two-Face practically at the last miles of their destination. However, Batman is battered and the KGBeast wants to batter him some more, forcing Batman to protect both his and Duke's lives, as well as the life of Two-Face. Now, Batman must outwit his pursuers and Two-Face, while back in Gotham, Commissioner Jim Gordon and the Gotham City Police Department are just feet away from discovering the secrets of the Batcave.
THE LOWDOWN:
While I did not always like every issue of Scott Snyder's 2011 to 2016 run on Batman, I do believe that his off-beat storytelling did serve to liberate Batman the character from a 25-year malaise. This rut resulted because practically every DC Comics editor and most Batman writers chose to follow the tone of Frank Miller's seminal Batman: The Dark Knight Returns.
Snyder made the Dark Knight/Detective less Batman-as-Clint Eastwood and more Batman-as-Bruce Wayne-on-a-mission. Snyder returned the man to Batman, showing the humanity in the hero. Snyder carried that over into All-Star Batman, where Snyder depicts a Bat-Man in stories that are action-thrillers. All-Star Batman's tone and graphic aesthetic is almost like the "wide screen" action of Warren Ellis and Bryan Hitch's The Authority from the 1999-2000. However, in All-Star Batman, Snyder cops the edgy, speedy, thrill-ride, action movie aspect of Chris Nolan's "The Dark Knight" trilogy, especially 2008's The Dark Knight.
Of course, Snyder needs a graphical storyteller and comic book artist that can pull that off. John Romita, Jr. does big. He does edgy. He does kick-ass. Here, Romita is cinematographer, designer, art director/set decorator, and stage director. Danny Miki's electric inking adds the zing. And yeah, Dean White is still smashing booty with his coloring. Even Steve Wand's lettering is explosive.
I READS YOU RECOMMENDS:
Readers looking for all-star Batman storytelling will want the
All-Star Batman
comic book.
A
Rating: A /10
Last Updated: September 6, 2021 - 08:15