Comics / Comic Reviews / More Comics
Aladdin: Legacy of the Lost #3
By Leroy Douresseaux
April 27, 2010 - 06:31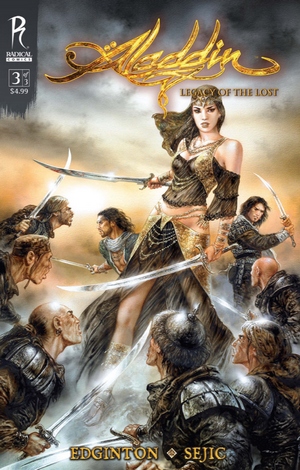 Aladdin: Legacy of the Lost #3 Cover A by Luis Royo
Aladdin: Legacy of the Lost, Radical Comics' three-issue re-imaging of "Aladdin and the Magic Lamp" from Arabian Nights, comes to a conclusion. Written by Ian Edginton and painted by Stjepan Sejic, this third issue takes readers to a lost city for the final battle between Aladdin, an orphaned thief, and Qassim, the powerful and devious sorcerer.
As Aladdin: Legacy of the Lost #3 begins, Aladdin and the legendary sailor, Sinbad, race to catch up with Qassim who has captured Princess Soraya of Shambhalla. Aladdin does have some luck on his side. He possesses a golden ring which contains a djinn, one with a connection of the djinn of the lamp, formerly in Aladdin's possession and now in Qassim's. A quick stop to gain more magical help unveils the secrets of the djinns' enslavement and both Aladdin's and Qassim's connection to an ancient people. Then, it's the showdown in the Lost Kingdom of Aramaspi.
[This comic book also includes a preview of the graphic novel, Legends: The Enchanted.]
THE LOWDOWN: The second issue of Aladdin: Legacy of the Lost was better than the first, and, now, the third issue leaves them both in the dust. It may well leave readers begging for more. Traveling from secret places to lost kingdoms, this third issue is so jammed packed with tremendous magics, far-fetched histories, and extraordinary beings that it would take an entire fantasy novel to tell this story in prose. Ian Edginton has written an outstanding fantasy graphic novel, and Stjepan Sejic ability to visualize that story is itself a feat of fantasy graphic storytelling. Aladdin: Legacy of the Lost promised a rousing adventure and it delivered.
POSSIBLE AUDIENCE: Readers looking for a little Jerry Bruckheimer in their comic books will choose Aladdin: Legacy of the Lost.
A
Last Updated: August 31, 2023 - 08:12