Comics / Comic Reviews / More Comics
Aladdin: Legacy of the Lost #2
By Leroy Douresseaux
April 12, 2010 - 15:09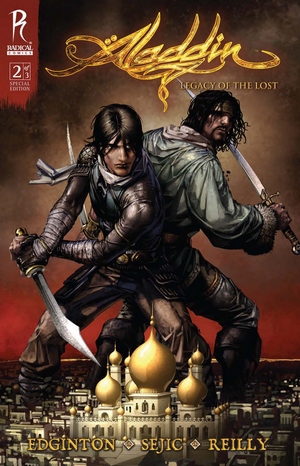 Aladdin: Legacy of the Lost #2 Clayton Crain incentive cover
Radical Comics' re-imaging of "Aladdin and the Magic Lamp" from Arabian Nights continues. Written by Ian Edginton and drawn by Patrick Reilly (all of issue #1 and part of #2) and Stjepan Sejic (part of #2 and all of #3), Aladdin: Legacy of the Lost transports readers to the mystical city of Shambhalla and focuses on Aladdin, an orphaned thief and liar, and Qassim, a powerful and devious sorcerer. Qassim has discovered that Aladdin carries a mystical ability within his blood that makes the young thief the perfect person to steal a legendary lost lamp.
As Aladdin: Legacy of the Lost #2 begins, Aladdin is wowing the denizens of Shambhalla with his ostentatious displays of wealth, especially by throwing around gold coins. This rankles King Rhokari, but the King wouldn't mind having Aladdin, now known as the Golden Prince, wed his daughter, the feisty Princess Soraya. The double dealing Qassim, however, returns with a plot so dark that Aladdin will need the help of the legendary Sinbad the Sailor and the devious Mantis Queen to save Soraya and himself.
THE LOWDOWN: The second issue of Aladdin: Legacy of the Lost is even better than the first. All the things that made the first issue a fun read are also in the second issue, and Aladdin is a far more engaging and interesting character than he was previously. He has a goal and a lot to lose, and he's looking for a shot at redemption, so now he's more than just another clever wastrel and thief at the center of a fantastic scenario.
The reason that Aladdin: Legacy of the Lost is such fun to read is that the creators aren't afraid to present something big. Much has been made of Radical Publishing's Hollywood connection, and Hollywood isn't afraid of being big. Like a Jerry Bruckheimer fantasy film, Legacy of the Lost transports the reader to exotic locales and mysterious, impossible places. These settings are populated by preposterous creatures and grand adversaries with a penchant for casting reality-warping spells or wielding robust dark magic. Plucky heroes leap from danger (often out of windows many stories above the ground), and their resourcefulness and a sword are their only weapons against magic.
Like Stan Lee and Jack Kirby, Radical Publishing delivers big fantasy and epic storytelling.
POSSIBLE AUDIENCE: Readers looking for epic in their comic books will choose Aladdin: Legacy of the Lost.
A-
Last Updated: September 6, 2021 - 08:15