Comics / Comic Reviews / More Comics
Aladdin: Legacy of the Lost #1
By Leroy Douresseau
February 2, 2010 - 11:20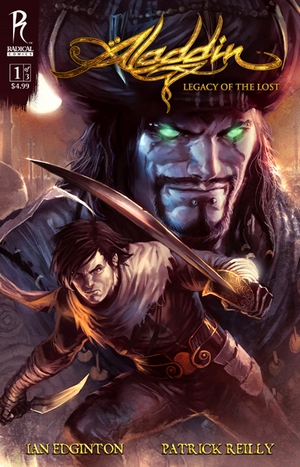 Aladdin: Legacy of the Lost #1 Cover A by Marko Djurdjevic
Radical Comics is publishing a reworked (or re-imagined) version of the story "Aladdin and the Magic Lamp" from Arabian Nights entitled Aladdin: Legacy of the Lost. This three-issue miniseries is written by Ian Edginton and drawn by Patrick Reilly (all of issue #1 and part of #2) and Stjepan Sejic (part of #2 and all of #3).
Aladdin: Legacy of the Lost #1, transports readers to the mystical city of Shambhalla and introduces the two main characters, Ala ad-Din, better known as Aladdin, and Qassim. Aladdin is an orphaned thief, cheat, gambler, and liar, who was born to a prostitute. Qassim is a powerful but devious sorcerer with a tendency to murder his lackeys. Qassim has discovered that Aladdin carries a mystical ability within his blood that makes the young thief the perfect person to steal a lost relic for him. But neither sorcerer nor young wastrel knows the true extent of the latter's powers.
THE LOWDOWN: Like all the Radical Comics that I have read, Aladdin: Legacy of the Lost is a hugely entertaining read. Practically every page is a tasty treat forcing the reader to race to the next page.
I don't know if or how much the artist for this first issue, Patrick Reilly, uses a computer to produce his art, but he shows a nimble touch at painting. His storytelling is good, but his ability to establish mood and atmosphere and also to create a mystical place and time are impressive. Like the inimitable Dan Brereton, Reilly paints sequential art that captures the spirit of traditional pencil and ink comic book art.
Writer Ian Edginton tells a ripping yarn, and in Qassim, he has an attractive and wickedly great villain. However, the story's hero, Aladdin, falls flat, at this point. The action of the story around him is exciting, but he isn't the reason. Perhaps, Aladdin seems a bit limp because the character is mostly unformed and much about him is still a mystery, at least I hope that is the case. It wouldn't do for him to be a caricature.
POSSIBLE AUDIENCE: Fans of action fantasy will enjoy Aladdin: Legacy of the Lost.
B+
Last Updated: January 24, 2022 - 11:00