Ai Ore: Volume 6 manga review
By Leroy Douresseaux
July 28, 2012 - 12:51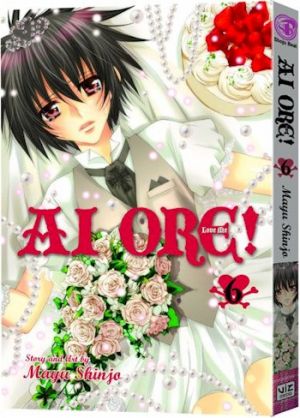 Ai Ore Volume 6 3D cover image
Rated "T+" for "Older Teen"
Mizuki Sakurazaka is the female "prince" of the all-girls school, St. Nobara Girls Academy. People mistake Mizuki for a boy. Akira Shiraishi is the male "princess" of his all-boys school, Dankaisan Boys High School, but people mistake him for a girl. Mizuki is the lead guitarist of the rock band, Blaue Rosen, which needs a new lead singer. Akira manages to become the lead singer, but he's joined the band with romance on his mind. Mizuki absolutely does not like boys, but she may learn to love Akira.
As Ai Ore!: Love Me, Vol. 6 begins, Mizuki and her band mates and some students from St. Nobara plan to enjoy summer break at a beach resort. Much to her chagrin, Akira and some of his Dankaisan homeboys are also at the resort. She decides to make the best of it, since Akira is her boyfriend, but he's ready to take their relationship to the next physical level. Akira's friend, Ran Nikaido, however, is ready to make his own move on Mizuki. Then, an unexpected return puts everything for which Akira has worked in jeopardy.
THE LOWDOWN: I wrote in my last review of the Ai Ore! manga that my first impression of Ai Ore! was, "Bishounen, Goth-Loli, emo, frilly, punk, shojo manga." However, Ai Ore! does have a lot of slapstick humor and romantic comedy. This sixth volume is fairly typical of high school shojo romantic comedies. The story offers such shojo staples characters staring off into the distance as their minds struggle with romantic doubts and comedy situations that place people in compromising positions.
Ai Ore! Volume 6 is also practically a Hollywood beach movie – without the music. I have to admit that I like shojo manga set at the beach for some fun in the sun. Maybe, it's because I never went to the beach with friends. I wonder if it is as fun as the manga makes it out to be.
POSSIBLE AUDIENCE: Readers looking for shojo romantic odd couples will want to try Ai Ore!
Rating: B /10
Last Updated: August 31, 2023 - 08:12