AiON: Volume 2
By Leroy Douresseaux
February 16, 2011 - 09:04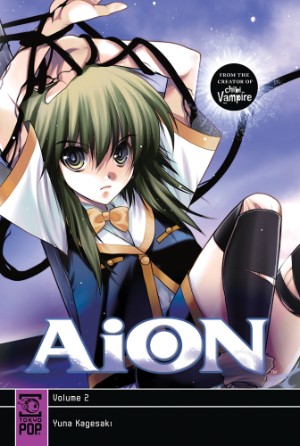 AiON Volume 2 cover image
Fantasy/Romance; Rated "T" for "Teenage 13+"
Tatsuya Tsugawa, an orphan, found Seine Miyazaki living in a cardboard box. He let her move into his home, but that made his life get weirder than it already was. Seine is warring with a race of evil mermaids that can control humans. She can destroy them with the help of AiON, a snake-like creature attached to her. Tatsuya's friends aren't crazy about the union of these two.
In AiON, Vol. 2, Tatsuya's childhood friend, Nagisa Yoshiyuki has come back into his life. Nagisa is envious of what she perceives to be a romantic relationship between Tatsuya and Seine, and that make Nagisa susceptible to evil. Meanwhile, Seine also gets a visit from old acquaintances: her "guardians" Shizuki and Yuzuki.
THE LOWDOWN: I don't want to use the word, "quirky," to describe AiON, but this romantic fantasy from Yuna Kagesak (the creator of Chibi Vampire) is peculiar. There is a lovelorn girl, Nagisa, and she is part of what is essentially a love triangle, so this manga has some of the hallmarks of typical high school romance. Of course, it is not unusual that a shojo romance is drenched in fantastic elements, but AiON just seems offbeat. It moves at its own pace and to its own rhythm, and the mystery behind everything is its hook that will lure readers into returning.
POSSIBLE AUDIENCE: Readers who enjoy fantasy and romance will enjoy AiON.
B
Last Updated: August 31, 2023 - 08:12