Comics / Manga / Yaoi Manga
A Gentleman's Kiss 2 (Yaoi)
By Leroy Douresseaux
Dec 5, 2008 - 15:44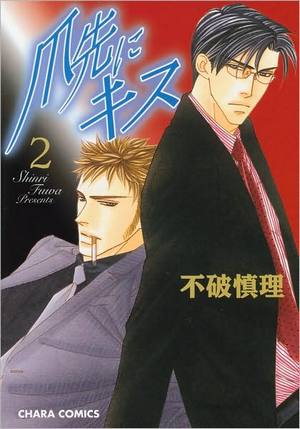 The above cover art for the Japanese edition of A Gentleman's Kiss 2 is also used for June Manga's English edition.
Rated "M" for "Mature Audiences 18+"
When host club employee, Kyoya Kuramoto, caught his boss, Homura Yasobe, with his lover, Touji Karasuma, Kyoya decided to blackmail Homura. After all, Homura's lover, Touji, was the heir to a rival Yakuza faction. Using that secret as leverage, Kyoya forces Homura to become his lover. Touji, however, is not about to allow another man to have Homura.
A Gentleman's Kiss 2, a yaoi manga from creator Shinri Fuwa, is a well-written crime drama and romance. The love story is a quite romance with its insistent lovers and strong male characters. In fact, this second and concluding volume of A Gentlemen's Kiss features unusually strong male characters for a yaoi title, and this story also really doesn't have a uke/seme dynamic. That gives the romance an unusual spin and lots of engaging dramatic conflict and tension.
A love triangle, such as the one featuring Kyoya, Homura, and Touji, is so appealing because of the conflict between these stubborn strong men. You can't wait to find out which man submits and allows the other two men to begin a happily-ever-after love!
B+
Last Updated: Jun 26, 2018 - 9:28