After the Fall: An Illustrated Novel book review
By Leroy Douresseaux
November 8, 2012 - 14:37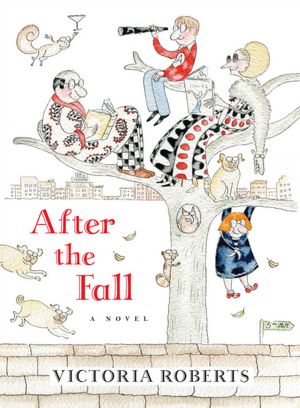 After the Fall An Illustrative Novel cover image is courtesy of barnesandnoble.com.
After the Fall: An Illustrated Novel is a new book from Victoria Roberts, who has been a contracted cartoonist for the magazine, The New Yorker, since 1988. Her illustrations and cartoons have also appeared in numerous other periodicals, including The New York Times, Playboy, Town & Country, and Wall Street Journal, among many.
After the Fall: An Illustrated Novel is exactly that – an illustrated novel. Featuring over 200 cartoons and illustrations, After the Fall is a sparkling New York City fairy tale that reinvents a familiar story – a well-to-do family suddenly becomes homeless. This book may be aimed at The New Yorker's sophisticated audience, but this slim volume will eventually be a favorite of young readers – at least I think so.
The story is narrated by Alan, a 10-year-old-boy from a wealthy family (a fabulously wealthy family) that lives in an Upper East Side penthouse. His father, Pops, is a mad inventor and self-made millionaire because of creations like Smokos (a simulation cigarette) and GloveDip (an invisible replacement for medical gloves). Mother is a chain-smoking socialite with a sharp wit and an even sharper tongue. His sister is Alexandra, a creative 7-year-old also known as "Sis."
One morning Alan awakens to find himself in Central Park. It seems that regime change and bad investments have left the family destitute and exiled from the penthouse. However, the entire contents of the penthouse – from furniture and artwork to clothes and the family pugs (Olive, Phoebe, and Sancho), have been relocated to the Park. In fact, everything has been positioned around Central Park, as if the park were the penthouse.
Usvelia the housekeeper and Gudelia the cook remain in the service of the family. Monsieur Marcel, the maître d' of the family's favorite restaurant, Le Château Boheme, regularly drops by to deliver food. As winter approaches, however, old tensions and furniture magnate, Hamid Kohlrabi, divide Pops and Mother. Now, it's up to the resourceful Alan and the imaginative Sis to restore home and hearth.
After the Fall has that singular quality of an old book that remains timeless because its story seems to carry an enchantment. Roberts' illustrations are lovely, and they come on with the force of a New Yorker collection of cartoons. Still, it is important not to downplay Roberts' prose, which shimmers with charm and wit. Like a classic children's story, it mixes imagination with melancholy, so it doesn't come across as syrupy. That's why this fantastical and fanciful scenario seems almost real – like some human interest story that could happen just once, and also manage to capture national interest, if only for a day or so.
Since part of After the Fall's story takes place during Christmas, it has the makings of a Christmas (or Holiday) favorite. I hope Victoria Roberts tries the illustrated novel again. I hope another New Yorker cartoonist attempts this. Heck, I wish Charles Addams had written a book like this just once.
Rating: 9 /10
Last Updated: May 19, 2020 - 12:25