Afterschool Charisma: Volume 1
By Leroy Douresseaux
June 16, 2010 - 14:23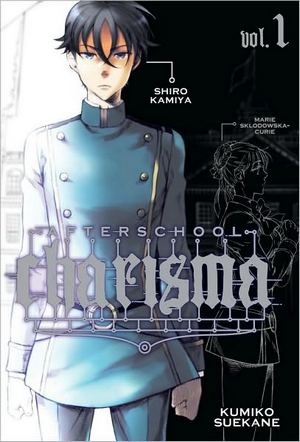 Afterschool Charisma Volume 1 cover image is courtesy of barnesandnoble.com.
Rated "T+" for "Older Teen"
Imagine a school where members of the student body include Napoleon Bonaparte, Sigmund Freud, Florence Nightingale, and Adolph Hitler, among others. That would be St. Kleio Academy, a school dedicated to the clones of great historical figures. Shiro Kamiya is the only non-clone student at the school. Why a regular kid is attending the school, no one knows for sure – even Shiro.
In Afterschool Charisma, Vol. 1, the clone of Marie Curie makes a bid to take a path different from the one the original Marie Curie followed. Shiro intercedes on her behalf with his father, Dr. Kamiya, a teacher at the school, but things don't work out quite the way Shiro expects. Meanwhile, a shadowy group conspires against the clones. And make way for Hitler!
POSSIBLE AUDIENCE: The reader may simply consider Afterschool Charisma to be yet another manga with an unusual concept. At first, this manga plays at being a rather peculiar boarding school drama, but as the story progresses, the conflicts and subplots abound, revealing that this is about more than just teen angst. Having Hitler around doesn't hurt the narrative. He only serves to make this an even more engrossing read.
THE LOWDOWN: Readers looking for a high school drama with several twists will want Afterschool Charisma.
B+
Last Updated: August 31, 2023 - 08:12